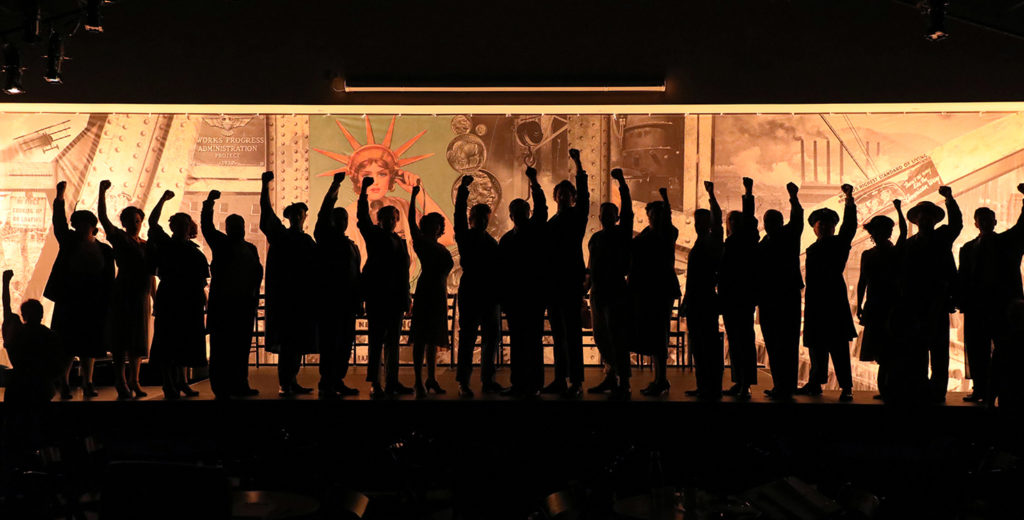 Just before the cast took to the stage for the Friday, May 10 opening performance of Nashville Opera's The Cradle Will Rock, director John Hoomes welcomed the packed house with a bit of backstory to the piece. Having done a bit more research that usual prior to attending opening night—mostly because it's been a while since I reviewed something at the opera, I was privy to much of what Hoomes relayed, so I thought I'd preface my review with a combination of details Hoomes shared, mixed with information I learned during prep for writing my review.
Back in 1937 during the worst days of the Great Depression, composer and lyricist, Marc Blitzstein teamed with director, Orson Welles and producer, John Houseman to create an American opera (alternately known as a play in music) overflowing with allegorical references to corporate greed, political corruption and filled to the brim with a cast of characters whose names frequently reflect that social and political status.
During its 1937 Broadway debut, The Cradle Will Rock's story of a wealthy and powerful man silencing the efforts of the common man to unionize by shutting them down by whatever means necessary received an eerily similar real-life reception when, just days before the play's scheduled opening, news came that President Roosevelt's Works Progress Administration was temporarily closing down all new theatrical performances, going so far as to padlock the doors of the Maxine Elliott Theatre were The Cradle Will Rock was to debut. Legend has it, Welles and company felt certain this mandate had more to do with their piece's radical pro-union themes and shuttering the theatre was a way to censor their voices.
Never one to shy away from controversy, Welles was determined to present his show, so he found a nearby theatre willing to rent him the space for a private event. On the scheduled opening night, Welles and 600 of his closest friends and patrons who had gathered outside the Elliott Theatre, walked some 20+ blocks to the Venice Theatre. Once inside, Blitzstein made his way to the stage where the piano had been brought from its original venue, while the actors sat among the audience. This was done because, in addition to the WPA ban, Actors' Equity had stated that the cast could not perform onstage without express permission from the show's producer, in this case, the government. Of course there was no mention as to whether or not 'audience members' could sing along should they by some chance know the words, so as Blitzstein began playing the opening notes of The Cradle Will Rock, the female lead stood from her seat in the audience and sang her part, with the other cast members following suit.
As Hoomes concluded his introduction to the piece, he also encouraged the audience to raise a glass as this performance not only celebrates the presentation of this legendary melding of opera and theatre, but also, on a more personal note, it marks the 10 year anniversary of Nashville Opera being housed in the gorgeous Noah Liff Opera Center.
With the piece's backstory told—its uncanny relevance to hot-button issues still prevalent in government and society today, no doubt at the forefront of every audience member's mind—the lights go up to reveal scenic designer Cara Schneider's seemingly simplistic, but intricately thought-out set. As is typically tradition, given the show's bare-bones history, it's a mostly sparse stage, consisting only of a row of simple wooden chairs set against a painted backdrop resplendent with iconography of the day including the depiction of steel girders, American success flyers, a beautiful reproduction of Z. P. Nikolaki's war bond advert featuring Lady Liberty using a candlestick telephone with the copy "Hello, this is Liberty speaking—billions of dollars are needed and needed NOW", and even a hilariously tongue-in-cheek modern take on "Loose Lips Sink Ships" (I'll leave it to you to approach the stage during intermission when you attend to catch that detail for yourself).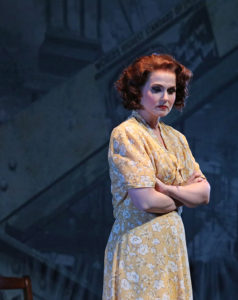 Megan Murphy Chambers, a darling of the Nashville theatre scene, is cast as Moll, a down on her luck young women who has turned to soliciting her body on the streets of Steeltown,USA in order to provide for herself. Equal parts vamp and vulnerable, with a spellbinding voice to match, Chambers gets things off on a high note as Moll laments I'm Checkin' Home Now. Next up, Moll encounters a young man, Gent (Patrick Thomas in his first of two roles in the piece) looking for company…at a discount. Then the duo are interrupted by Dick (Jairus Maples), a less than honorable cop, who ends up arresting Moll after she refuses his advances.
This moves the action to the clink where Moll meets Harry Druggist (Shawn Knight) a formerly successful businessman who's now the town drunk after a sad series of events, including the death of his son. Later in the show, Knight's performance during the Drugstore Scene alongside Maples as his son, Steve and Charles Edward Charlton as Bug, a local heavy, is among the show's more riveting moments.
They are soon joined by the majority of the remainder of the cast, Clerk (Brian Best), Cop (Mark Filosa) and The Liberty Committee, comprised of Yes Men and sellouts including: Reverend Salvation (Brent Hetherington), Editor Daily (Patrick Thomas in his primary role), Yasha, the violinist (Scott Rice), Dauber, the artist (Darius Thomas), Dr. Specialist (Brian Russell),  and President Prexy (Jennifer Whitcomb-Oliva). Eventually we are also introduced to Larry Foreman (Eric Pasto-Crosby), chief union organizer.
As you might have surmised by the aptronymic characters, Blitzstein wasn't much for subtlety in that regard, or in the play's over-all anti-capitalist slant. What you get is exactly what you see.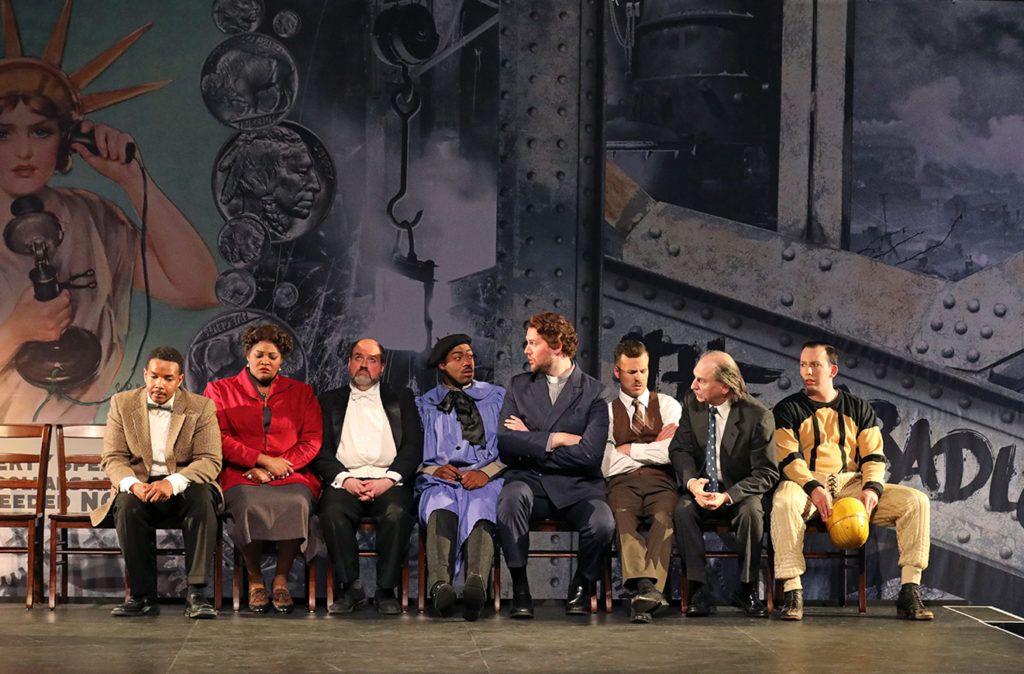 During the bulk of the piece, the audience is treated to exposition through song revealing who each character is, their relationship to the mysterious Mr. Mister and how they ended up where they are and how they came to be bribed, bullied and coerced into joining the committee to further his capitalist cause as they work to bust up the burgeoning unionization of the common man.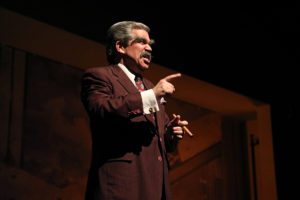 Speaking of, the previously alluded-to community leader comes in the form of Galen Fott as Mr. Mister, a Trumpian figure if ever there was one complete with haughtier than thou wife Mrs. Mister (Martha Wilkinson) and dim-witted, superficial offspring Sister Mister (Jenny Norris) and Junior Mister (Chris Simonsen).
Steeped in a decidedly period-authentic jazz vibe, much of the music leans more towards early musical theatre than what is thought of as traditional opera. Chambers the obvious stand out in the more theatrical quartet of tunes that open the show.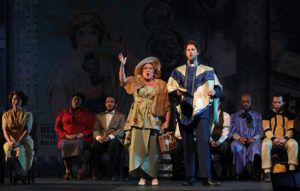 Other noteworthy musical moment come by way of Hetherington and Wilkinson's hilarious duet Mrs. Mister and Reverend Salvation, during which we witness the ever-present relationship between church AND state, as the Missus leads the preacher to sermonize both sides of war, depending on her (and her husband's) current financial opportunities where the subject is concerned).
The Freedom of the Press is another relatable, yet touchy tune as Mr. Mister and Editor Daily on what could easily been seen today as the origin of "fake news". "News made to order" among the lyrics of a tune from 1937 is indeed still newsworthy today.
In numbers that are presented in the spirit somewhere between Nelson Eddy/Jeanette McDonald and Mickey Rooney/Judy Garland, Croon Spoon and Let's Do Something are my personal favorites, mostly because they embody typical late-30s movie musical numbers with Norris' giving us a breathy Mae Questel (Betty Boop) lightness matched by Simonsen's devil-may-care swarthiness.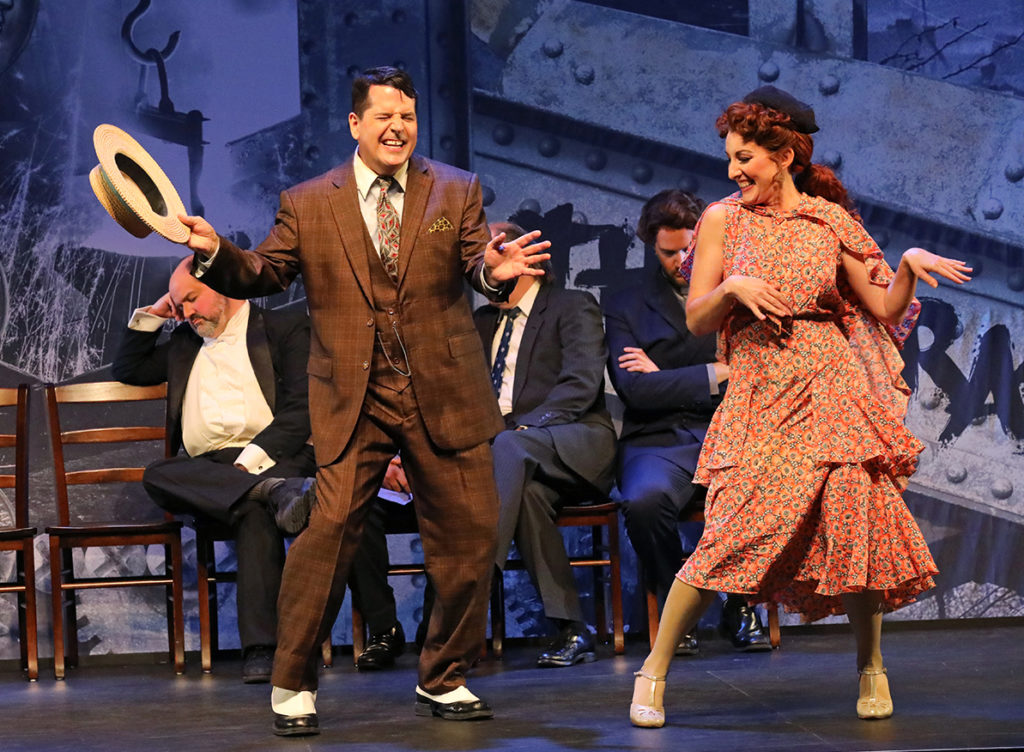 Keeping the mood seemingly comedic, but with tones of things to come, Honolulu shoves the unmotivated Trump Junior…er…um…uh…I mean Junior Mister off to the tropics to be a newspaper correspondent, in spite of the fact that he has no journalistic training.
The earlier-referenced Drugstore Scene plays next and is followed by Luke Harnish and Jessie Neilson in the sweet but eventually sad Gus and Sadie Love Song, during which the playwright manages to touch on bigotry and prejudices.
Matching her husband's sense of entitlement in controlling other's destinies, Mrs. Mister picks the arts as her playground, controlling sell-outs the Dauber (brilliantly played by Darius Thomas) and the equally scene-stealing Scott Rice as Yasha. While watching these three tease and taunt each other with the promise of prominence in their respective worlds, I couldn't help but laugh along with the other patrons of the arts in attendance. Well-played, Blitzstein…equally well-played Hoomes! For who are we if we cannot laugh at ourselves?
Chambers takes centerstage again for the show's most poetic tune, Nickel Under the Foot, in which she beautifully laments the haves and the have nots.
Thankfully, all is not lost in this battle of capitalism vs humanism with the late-hour introduction of Eric Pasto-Crosby as Larry Foreman, a pro-union common man arrested for "carrying cocieled deadly leaflets" Still another mirror to our current administration's disdain for anyone speaking out against the establishment.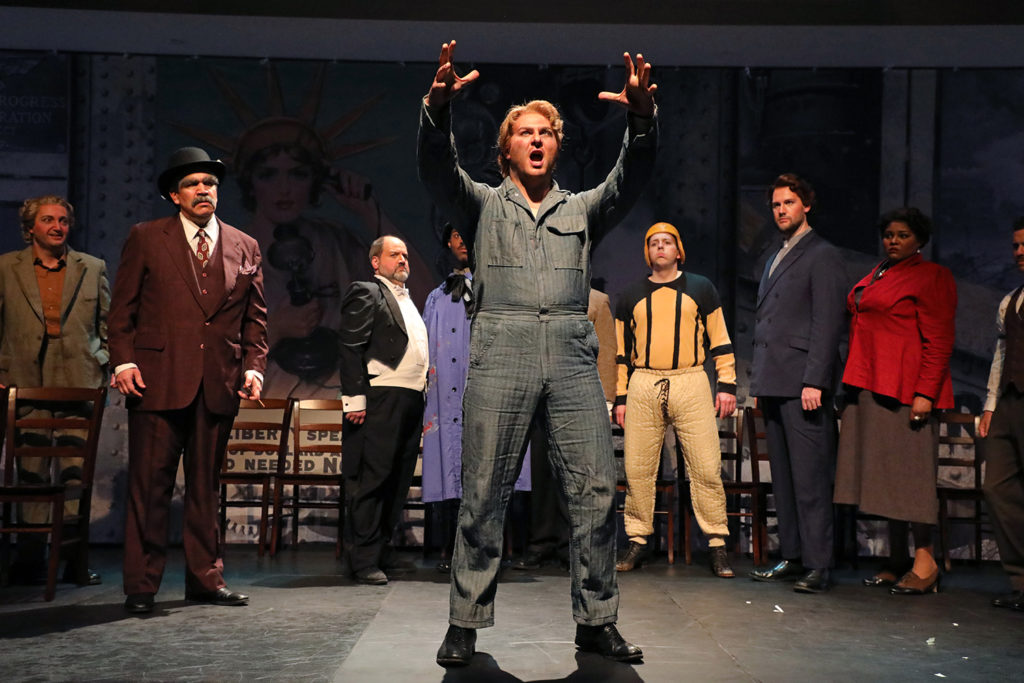 Jennifer Whitcomb-Oliva as President Prexy is—no surprise—a delight. While it's only a small role, compared to some others in the piece, Whitcomb-Oliva makes the most of what she's given as the sole female member of the all-boys Liberty Committee. (in the original mounting, the entire Committee was played by men). During the limited time Whitcomb-Oliva is featured as the head of a local university, she shines, never once giving any indication that she wasn't born to play this role, just as the talented actress and singer does with every role she lands. The Faculty Room Scene, in  which she is summoned by Mr. Mister to offer up one of her college's professors who is to address young men and dissuade them from joining the union, is the perfect example of the power of persuasion and influence over young minds. Luke Harnish as Professor Trixie, who also just so happens to be the school's football coach, hams it up to audible delight from the audience in yet another still-true stereotype that athleticism, machismo and boisterousness equals right and common sense.
Just as Mr. Mister has everything worked out to pursued the end of the union organizing, he visits Russell's Dr. Specialist about the matter of the death of a steel worker who 'fell to this death'…or was he pushed? Mr. hopes to convince the Dr. to release a statement saying Joe Worker was drunk.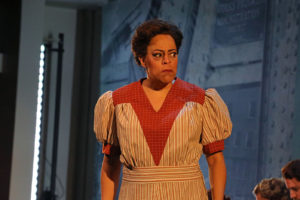 Enter Brooke Leigh Davis as Ella Hammer, sister of the murdered steelworker, come to defend the memory of her brother when she questions Dr. about his intentions to defame her brother by indicating he was drunk. Davis, who, like many in this show, I've had the pleasure of seeing in a handful of productions around town, sets up the show's crescendo ending with her powerful operatic performance during the show-stopping Joe Worker.
By the time the cast, led by resistance leader, Pasto-Crosby's Larry Foreman, raise their defiant fists in the titular reprise, the audience can't help but feel energized and motivated. Bravo to Hoomes, his entire cast and crew for sharing this historically significant and ever-timely piece with Nashville audiences.
Nashville Opera's The Cradle Will Rock continues it's limited run at Noah Liff Opera Center with an 8p.m. evening performance Saturday, May 11 and a final matinee Sunday, May 12 at 4p.m. The Cradle Will Rock is presented with cabaret seating. At the time of this review, limited seats remain with cabaret seating priced at $85 and side seating available for $26. CLICK HERE for tickets or more information.
The Cradle Will Rock stars Megan Murphy Chambers, Galen Fott, Martha Wilkinson, Eric Pasto-Crosby, Shawn Knight, Jenny Norris, Brent Heitherington, Patrick Thomas, Scott Rice, Darius Thomas, Brian Russell, Brooke Leigh Davis, Jessie Neilson, Luke Harnish, Charles Edward Charlton, Jennifer Whitcomb-Oliva Jarius Maples, Brian Best and Mark Filosa.
The Cradle Will Rock creative team is comprised of director and supertitles creator, John Hoomes, music director/pianist Amy Tate Williams, lighting director, Barry Steele, costume designer, June Kingsbury, scenic designer, Cara Schneider, wigs and makeup designer, Sondra Nottingham, prop master, Lucious Rhoads, production stage manager, Taylor Wood, technical director, Randy Williams, costume coordinator, Pam Lisenby, costume crew: Jayme Locke and Eleanna Flautt, wigs and makeup crew: Jennifer Ortiz, Alysia Faith and Tammy Potts-Merritt, supertitles operator, Anna Young.
Up next for Nashville Opera will be Madame Butterfly at TPAC's Jackson Hall October 10-12 with tickets ranging in price from $26-$124. CLICK HERE for tickets or more information. You can also find Nashville Opera on Facebook, Instagram and Twitter.
As always, if you are interested in coverage for your latest entertaining endeavor, simply click the contact page and drop me a note. You can also follow JHP Entertainment on Instagram and Facebook.