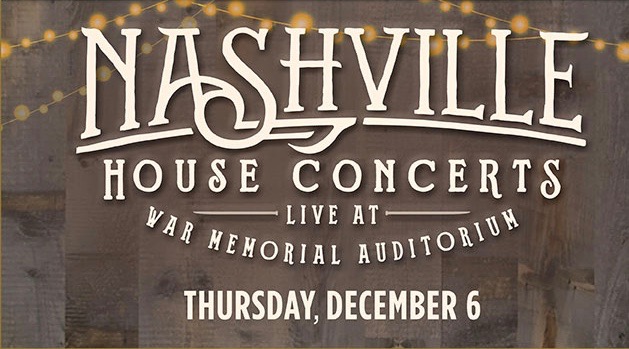 In its short year-plus history, Nashville House Concerts has quickly become one of Music City's most popular monthly live music events. Heck, its debut season was even named the city's Best New Concert Series by the Nashville Convention & Visitor Corporation. With a roster including Marcus and Levi Hummon, Lucie Silvas, New Reveille, Tegan Marie, Halfway to Hazard, Diana DeGarmo and Gretchen Wilson, the December 6 installment, housed as always at War Memorial Auditorium, is poised to prove that accolade true.
Having debuted the first Thursday in September 2017, Season One of Nashville House Concerts continued each first Thursday through June 2017. The monthly music series returned to the stage of Music City's historic War Memorial Auditorium in September of this year.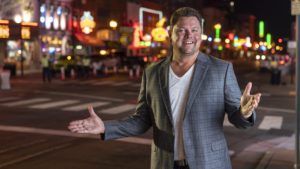 Co-hosted by SiriusXM's Storme Warren, Season Two of the Nashville House Concerts has Warren joined by co-host, singer Shelly Fairchild with singer/songwriter Chris Roberts at the helm of the It Is What It Is house band made up of some on Music City's most sought-after players.
Earlier this week, I had a chance to talk with Storme about the concert series. When asked about the mix of entertainers presented each month at the iconic venue, Storme explained, "Each show we strive to put on display artists from all corners of music and entertainment. Newcomers, songwriters, comedians and superstars all share this legendary stage."
Of the show's brief, but successful stint, Storme continued, "Music, stories, laughs and audience interaction are the goals each month. A year and a half in, this series just keeps getting better."
When asked about the job of co-hosting the monthly concert series, Storme revealed, "I got in to this business to get close to people who create art. But truly, the real goal has always been to bring fans closer to those who create the soundtracks and entertainment for our lives. I'm just a conduit."
The Nashville House Concerts certainly do bring fans closer to the artists. Presented in one of Nashville's older concert venues…the building was originally built in 1925…War Memorial Auditorium seats around 2000 patrons. When you compare that to venues like nearby Bridgestone Arena, with a seating capacity of 20,000, an evening at War Memorial Auditorium is an intimate experience, indeed.
More About the December Nashville House Concerts artists
MARCUS AND LEVI HUMMON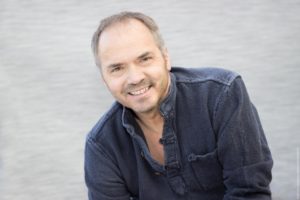 Marcus and Levi Hummon are singer/songwriters, who just so happen to be father and son. Marcus garnered notoriety and a Grammy as co-writer of Rascal Flatts' 2004 mega-hit, Bless the Broken Road. Marcus and co-writers Bobby Boyd and The Nitty Gritty Dirt Band's Jeff Hanna had originally penned the song in 1994, and prior to Rascal Flatts recording it, it had originally been recorded by Hanna and his bandmates for The Nitty Gritty Dirt Band's Acoustic cd. Human also covered the tune in 1995 on his solo debut album, All in Good Time. The song was also recorded by Sons of the Desert, although that version was never released due to conflict between the band and their label. Proving the song's power, following Rascal Flatts' duetting with Carrie Underwood on it during the 2005 American Idol season, a studio recording of their new duet was released. Also indicating the power of the song, just last year the tune was the basis for the inspirational movie of the same title. Among his many other songwriter credits, Hummon also co-wrote Ready to Run and Cowboy Take Me Away for Dixie Chicks, Tim McGraw's One of These Days, Wynona's Only Love, Chely Wright's Jezebel and Sara Evans' Born to Fly, just to name a few.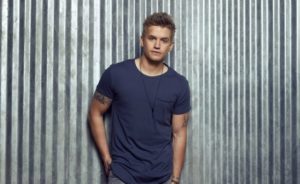 Though music was always around him while growing up, Levi Hummon had no real intentions of following in his famous songwriter father's footsteps, focusing instead on visual arts and sculpture while attending college away from Nashville at a private school in Florida. In spite of his flair for visual art, the younger Hummon, whose bio cites musical influences as varied the Ramones and Mumford and Sons to the White Stripes and Outcast, did always have a guitar near and while away at school began to occasionally pluck away, writing a song here and there, eventually returning to Nashville and beginning weekly co-writing sessions with his dad and others. a publishing deal, as well as a recording contract soon followed. Interestingly, those weekly writing sessions, occurred on Thursday, just like the Nashville House Concerts series. Hummon's popularity only growing, Patient, his latest EP was released in October and his Spotify artist profile currently boasts more than 505,000 monthly listeners.
LUCIE SILVAS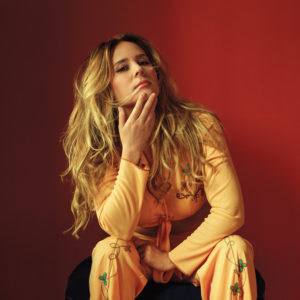 British-born singer Silvas released her debut single It's Too Late in the spring of 2000. A year later, she switched gears a bit as she signed a publishing contract as a songwriter for Chrysalis Records. Those early tunes were recorded by British artists including Liberty X, Gareth Gates and Will Young, who all got their start on Brit-based music competition shows. Though she was enjoying success behind the scenes, Silvas continued to write and record music herself, releasing Breathe In in 2004. The project's release, propelled by six singles, became a Platinum-selling record in the UK, Spanish Album Chart and Dutch Albums Chart. It also enjoyed success on the Austrian and French charts.
More international success followed with SIlvas' 2007 release, The Same Side and in 2010, Silvas made the trek across the pond where she began working on music for her next project, Letters to Ghosts. While working on Letters, Silvas also wrote songs for the hit NBC musical drama, Smash for Hit List, the Season 2 musical within the show. Among her Smash tunes: Heart Shaped Wreckage, Pretender, Don't Let Me Know, and Calling Out My Name. On October 15, 2013 Silvas' songs were included in a live concert at New York's famed 54 Below, performed by Smash stars Jeremy Jordan, Andy Mientus and Krysta Rodriguez.
Silvas' long-anticipated Letters to Ghosts was released by Silvas' own label, Furthest Point Records in September 2015.  In 2016, she continued to solidify her Music City ties by co-writing and providing backing vocals on Miranda Lambert's Smoking Jacket, included on Lambert's ACM Album of the Year, The Weight of These Wings. While continuing to establish herself in Nashville, Silvas also bridged the gap between Music City and her British roots by appearing as part of the 2017 line-up for C2C: Country to Country an international country music festival held each year in London's famed O2 Arena. Silvas' latest cd, E.G.O. was released earlier this year.
NEW REVEILLE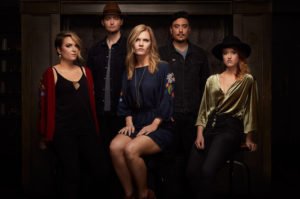 Hailing from Raleigh, North Carolina, New Reveille, is a five-member Americana band comprised of lead vocalist Amy Kamm, banjo and guitars by Daniel Cook, guitarist George Hage, violinist  Autumn Brand and cellist Kaitlin Grady. That's right, while they're categorized as Americana, a sound deeply rooted in country and bluegrass, the inclusion of a cello indicates they just might be genre-defying…or is that genre-defining? Currently signed to Loud and Proud Records (roster mates include Lynyrd Skynyrd, Van Zant, Blues Traveler and Rick Springfield), New Reveille's just-released The Keep was getting notice even before its September 7 release date. Rolling Stone Country named them among the 10 New Country Artists You Need To Know. Following their debut release, New Reveille lived up to the Rolling Stone mention with performances around Music City during September's 19th annual AmericanaFest, as well as featured performances on Today in Nashville and The Attic Sessions. Produced by Grammy-winning producer/engineer Ben Fowler. The Keep's lead single, Hounds is out now.
TEGAN MARIE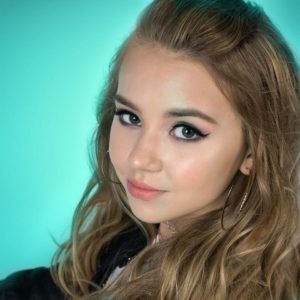 When she was just seven years old, Tegan Marie became an internet sensation by posting a music performance video on a popular entertainment site for young girls. In the eight years since, Marie started her own YouTube channel and continued to post videos of herself covering songs ranging from The Band Perry and RaeLynn to LeAnn Rimes and Faith Hill, resulting in thousands and thousands of online views and droves of adoring fans of all ages. It wasn't just fans who were paying attention, but also music industry folks as well.
In 2017, at the age of 13, Marie signed a recording contract with Warner, making her the youngest singer to sign such a deal in more than four decades—Tanya Tucker, who had her first hit in 1972, also at age 13, previously held that honor. Marie's current deal, a partnership between Warner and the teen and tween girls' site, SweetyHigh.com has already produced two singles, Keep It Lit, released in January of this year, and I Know How To Make A Boy Cry, released in June. Last month, in a bit of age-appropriateness, Marie, now 15, appeared at the Macy's Thanksgiving Day Parade high atop the Girl Scouts' Building a Better World float where she performed Keep it Lit. Following Thursday's Nashville House Concert, Tegan Marie will next be seen in Nashville at Wendy Darling at TPAC in Lythgoe Family Panto's Peter Pan and Tinker Bell: A Pirate Christmas.
HALFWAY TO HAZARD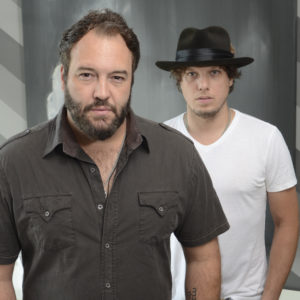 Singer/songwriters David Tolliver and Chad Warrix, collectively known as Halfway to Hazard, released their self-titled debut album on Mercury Nashville in 2007. The cd's first single Daisy hit the US Billboard Hot Country Songs Top 40 chart in 2007 while the album itself peaked at an impressive #14, just a few spots shy of the US Country Top Ten. That same year, they toured as the opening act for Tim McGraw and Faith Hill's Soul2Soul tour. Landing such a key tour gig no doubt came to fruition, at least in part, thanks to the fact that McGraw co-produced the project alongside Byron Gallimore. With a nomination for ACM Duo of the Year to their credit, Halfway to Hazard later joined McGraw and Jason Aldean on their Live Your Voice tour.
Following the switch to indie label Picnic Hill Records, Halfway to Hazard released their sophomore effort, Come On Time in 2009, its featured single, I Know Where Heaven Is. In 2012, Warrix related a solo album and both he and Tolliver seemed to focus on songwriting, Tolliver signing a publishing deal as a songwriter for McGraw's StyleSonic publishing company that resulted in a Tolliver/Warrix co-write on McGraw's Die by My Own Hand from the singer's 2012 Emotional Traffic album. In 2013, Tolliver penned the tune Let Me Love It Out of You, included on McGraw's 2013 Big Machine debut recording. In 2017, Halfway to Hazard released their third studio album, REDemption which included singles Heaven On Down the Highway and American Outlaw.
DIANA DeGARMO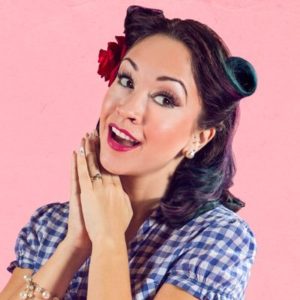 Singer/songwriter/actress Diana DeGarmo, a native of Birmingham, Alabama, grew up in Snellville, Georgia. As a youngster, she performed in musical theatre productions, but it was during Season 3 of American Idol in 2004 that he star began to rise. After landing in the final two for the season, DeGarmo's undeniable charm, talent and stage presences only grew. Not long after her Idol season, DeGarmo starred as Maria in a regional production of West Side Story in the fall of 2005. That lead to her Broadway debut as Penny Pingleton in Hairspray in 2006.
That same year, DeGarmo starred in the national touring company of Brooklyn, returning to Broadway for a second to resume the role of Penny in Hairspray.
In 2009, DeGarmo starred as the Narrator in a local production of Joseph and the Amazing Technicolor Dreamcoat. She returned to New York later that year to star off-Broadway in The Toxic Avenger. Still in New York in 2010, DeGarmo joined the Broadway company of Hair, which coincidentally also starred another former American Idol contender, Ace Young. Coincidence became the stuff of fairy tales as the two eventually fell in love and married.
2010 saw DeGarmo take on the role of Doralee Rhodes in the national touring company of 9 to 5: The Musical. Dolly Parton had originated the character in the film upon which the musical is based.
After moving to Nashville, DeGarmo married fellow Idol vet Young in 2013. The following year, the duo shared the stage in the national tour of Joseph and the Amazing Technicolor Dreamcoat, DeGarmo reprising her role as the Narrator, with husband, Ace, starring as Joseph. Following her time with the tour, DeGarmo landed the lead of Dorothy Gale in Studio Tenn's Broadway-worthy production of The Wizard of Oz in 2015.  The next year saw DeGarmo continue to wow audiences with her international turn as Lucy in the South Korean production of Jekyll and Hyde. In May 2018, DeGarmo and hubby Young shared the stage once again as she returned to Studio Tenn for their hugely successful production of Grease. Of course she played Sandy to his Danny.
DeGarmo's Nashville House Concerts appearance comes just after her late-summer run in North Shore's Jekyll and Hyde. Immediately following Thursday's Nashville House Concerts performance, DeGarmo resumes rehearsals for her next role. She'll be sharing the stage at TPAC with her Nashville House Concerts co-headliner, Tegan Marie playing Tinker Bell in the aforementioned Lythgoe Family Panto Peter Pan and Tinker Bell: A Pirate Christmas, which also stars Garrett Clayton as Peter Pan, John O'Hurley as Captain Hook and Ben Giroux as Smee.
GRETCHEN WILSON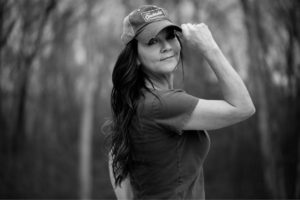 Having been a part of Music City's infamous MuzikMafia, Gretchen Wilson has always been seen as one of modern country music's authentic outlaws. From the moment Gretchen Wilson released her unapologetically anthemic Grammy-winning Redneck Woman, the #1 single off her 2004 debut record, Here for the Party, Music City—and the world—knew there was a new woman in town and she was ready to take no prisoners. She kept that momentum going with the singles Here for the Party, Homewrecker and When I Think About Cheatin', all three of which landed in the Top 5 Hot Country Singles Chart as well. In addition to the above-referenced Grammy win for Best Female Country Vocal Performance, Wilson's debut release also received Grammy nominations for Best Country Album, Best Country Song and Wilson received a nod in the Best New Artist category.
Her sophomore effort, All Jacked Up debuted at #1 while the lead single debuted at #21, setting what was then the record for the highest-debuting single by a female country artist. Other charting singles included I Don't Feel Like Loving You Today, Politically Uncorrect (with Merle Haggard) and California Girls. While it wasn't released as a single, the album also included Wilson's beautiful take on the Billie Holiday torch classic, Good Morning Heartache. Once again, Wilson snagged a handful of Grammy nominations, including Best Country Album, Best Female Country Vocal Performance, Best Country Song and Best Country Collaboration with Vocals.
Wilson's third album, One of the Boys, was released in 2007 and debuted at #1 on the Country Album Chart. The project featured a duet with her MuzikMafia pal, John Rich on the single Come to Bed. Other singles from the album included the title track and You Don't Have to Go Home.
Practicing her outlaw self-sufficient ways, Wilson parted way with her label and started her own, Redneck Records. In 2010 he long-awaited fourth album I Got Your Country Right Here marked her label's premiere release. The album's lead single, Work Hard, Play Harder became her first Top 20 hit since 2005's All Jacked Up. The title track became her second single, with I'd Love to Be Your Last, released in 2011, being the third and final single released from the album.
2013 saw Wilson release an impressive three projects, Right On Time, resulting in Still Rollin, One Good Friend and Crazy. Among the unreleased tracks, my personal favorite, Get Out of My Yard, written by Brandy Clark, Shane McAnally and Kacey Musgraves. Wilson's other 2013 releases—Under the Covers, a collection of cover tunes presented with Wilson's unique handling and Christmas in My Heart, a holiday offering containing a mix of new and classic Christmas songs. Wilson returned in 2017 with the appropriately titled Ready to Get Rowdy…as if she ever wasn't.
Nashville House Concerts will continue the first Thursday of each month through June 2019. CLICK HERE for tickets.
If you've enjoyed this preview and would like to keep up with upcoming Nashville House Concerts and other events at War Memorial Auditorium, find them online at wmarocks.com, 'like' them on Facebook and follow them on Instagram and Twitter.
Interested in coverage for your latest entertaining endeavor? Click the contact page and drop me a note. You can also follow JHP Entertainment on Instagram and Facebook.