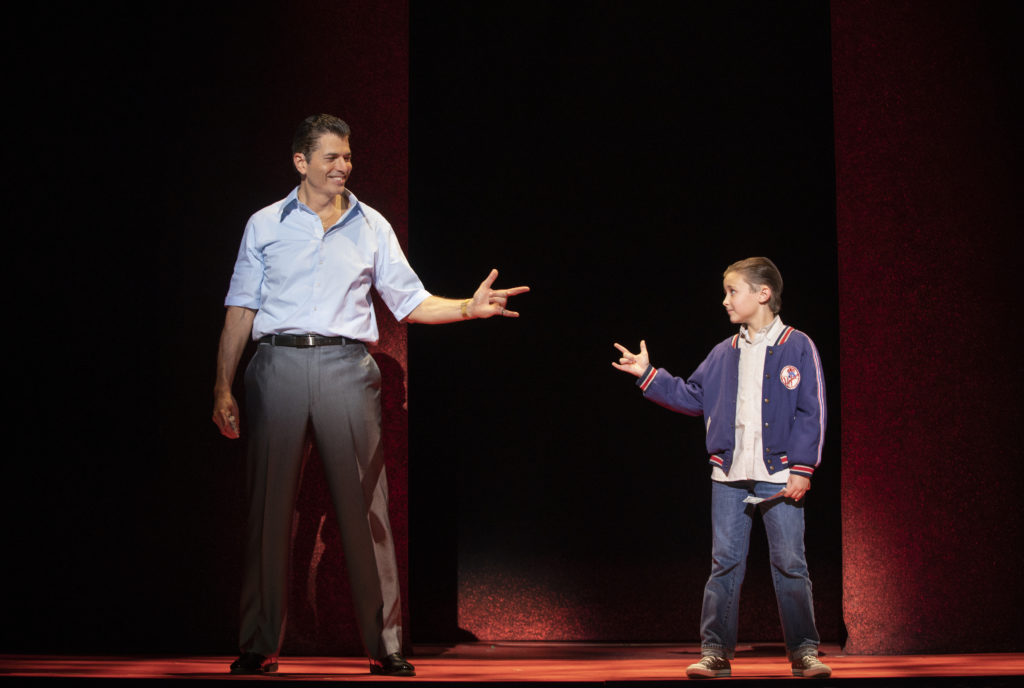 The Broadway musical, A Bronx Tale continues its first National Tour as it stops in  Music City this week with shows at TPAC's Andrew Jackson Hall through Sunday, February 17.
Based on the 1993 Robert De Niro-directed film of the same name, A Bronx Tale's origins go back a few years prior to the film, having its genesis as a one-man stage play created and performed by actor/writer Chazz Palminteri, based on his own childhood memories of growing up in a predominantly Italian neighborhood in the famed NY borough.
In addition to Palminteri's book, A Bronx Tale boasts music by modern musical theatre icon Alan Menken with lyrics by his frequent partner, Glenn Slater (the duo behind Disney's Tangled and Broadway's The Little Mermaid). The technical spectacle doesn't end with the spoken words and tunes of A Bronx Tale, for scenic designer Beowulf Boritt has created a gorgeous set perfectly transporting the action to an Italian-American neighborhood in 1950s New York. Also aiding in the step back in time are William Ivey Long's costumes and Paul Huntley's wig and makeup styling. Coupled with Howell Binkley's lighting design, A Bronx Tale is a visually any audibly stunning recreation of a mid-century New York brownstone neighborhood.
Even before the curtain rises, a decidedly authoritarian voice cracks wise warning audience members that the use of recording devises of the taking of pictures might result in a bat over the head, giving a not-so-subtle clue of the heavy-handed, but humorous story to come.
From the beginning, A Bronx Tale evokes familiarity as it presents a classic doo-wop opening number, Belmont Avenue, reminiscent of everything from Jersey Boys and Memphis to Hairspray and Little Shop Of Horrors. Positioned under a lamppost (aren't they always?) the Doo-Wop Guys (Sean Bell, Joshua Michael Burrage, Giovanni DiGabriele and Alex Dorf) offer up some smooth postmodern harmonies while Joey Barreiro, who's starring as Calogero (Palminteri's birth name, in case you're curious) joins the guys for a  tune-filled plot exposition. During the tune we learn through lyrics that Calogero was only nine years old when he first laid eyes on neighborhood mobster, Sonny, sneeringly played to perfection by Joe Barbara. Being a soap opera aficionado, I immediately recognized Barbara for his mid-90s work as Joseph Carlino on the now defunct sudser, Another World. On stage, Barbara was a member of the Broadway company of A Bronx Tale and he also appeared in the Las Vegas mounting of Jersey Boys. Seeming destined to play mobster Sonny, Barbara also shares his name with legendary real-life mobster, Joseph Barbara but that's probably all I should say about that.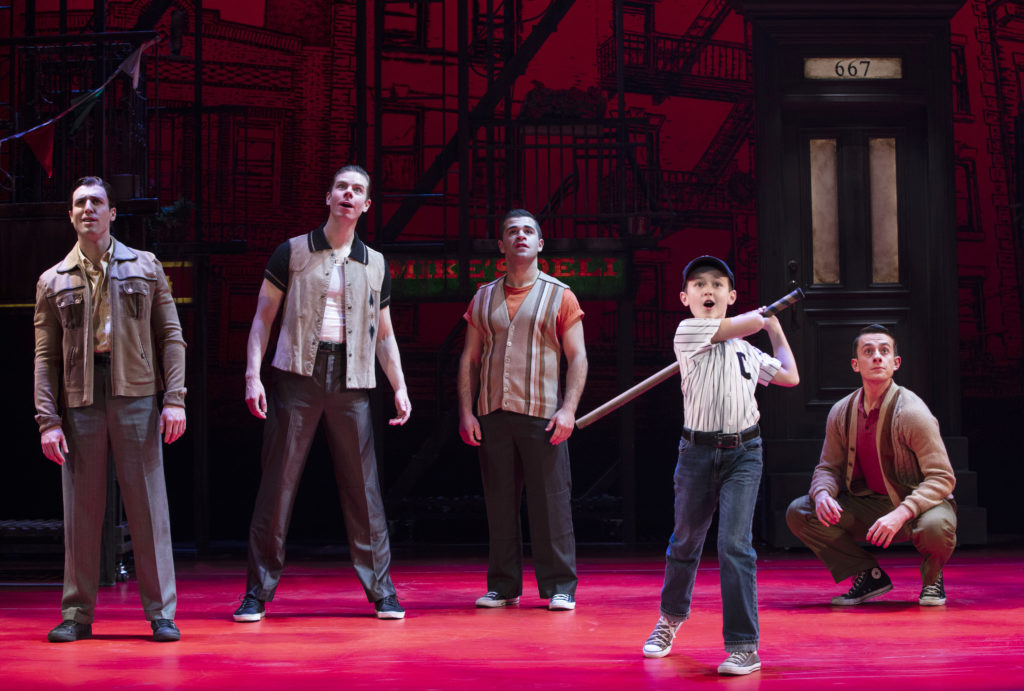 The opening also introduces us to nine-year-old Calogero (played at alternate performances by Frankie Leoni and Shane Pry). Opening night in Nashville featured Leoni in the role and I have to say, he absolutely stole the show. The young actor's stage presence, timing, delivery and his ability to belt a tune and keep up with the rest of the cast as they perform Sergio Trujillo's blissful choreography was mind-blowingly entertaining.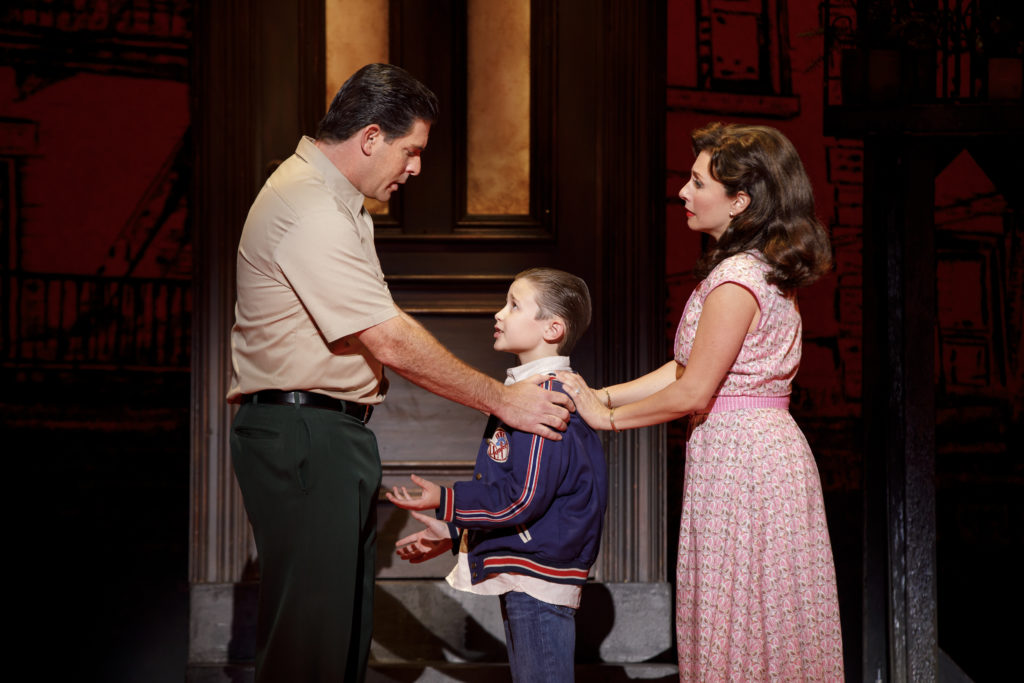 Barreiro's teenage Calogero, nicknamed simply "C" by Sonny, narrates the action as young Calogero is joined on stage by Richard H. Blake and Michelle Araveno as his parents, Lorenzo and Rosina after Calogero witnesses Sonny shoot a man near the boy's front stoop. In spite of his dad's musical warning with Look to Your Heart, young Calogero decides not to rat Sonny out when the cops question the young witness, setting up a truly unique friendship between the boy and the boss that weaves together the rest of the tale.
One of my favorite scenes comes when Sonny introduces C to Sonny's familia, as he introduces each member of his crew, he calls their names like a class roll-call. There's Rudy the Voice (John Gardiner), then Eddie Mush (Mike Backes), JoJo the Whale (Michael Barra), Frankie Coffeecake (Robert Pieranunzi) and finally Tony 10 to 2 (Paul Salvatoreillo). When each name is called, that associate steps forward facing font, with a click of the spotlight, they then turn to profile with another click of the spotlight, a visual wink mimicking every mug-shot sequence from every gangster movie ever made. Well played, lighting designer Binkley, well played.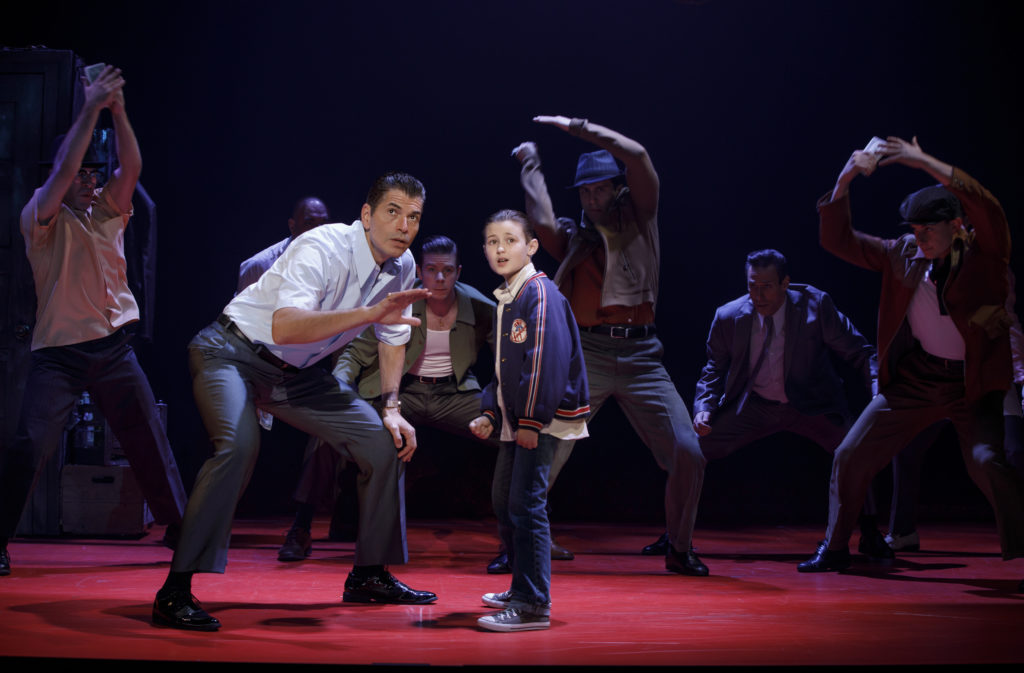 Young Calogero becomes integrated into Sonny's outlet (that's mob-speak for Mafia family), initially throwing dice for Sonny in a craps game during the musical number, Roll Em, garnering more and more trust from Sonny and the organization, and reaping their financial gratitude, C stows away handfuls of money while further driving a wedge between himself and his family.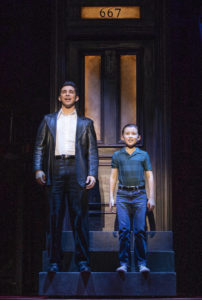 I Like It, another stellar moment midway through Act 1 features both Calogero, his younger self, Sonny and members of the ensemble. Then Giving Back the Money fully illustrates the growing divide between father and son as well as a bit of unspoken history between Sonny and Lorenzo.
Focus then shifts to teenage Calogero for the remainder of the show. I have to admit, I kept waiting for the full switch and inevitable exit of Leoni as young Calogero, but was pleasantly surprised the talented young actor remained a central part of the story as long as he did.
That said, once Barreiro's late-teen Calogero becomes the primary focus, we are also introduced to Calogero's wannabe gang, Handsome Nick and Crazy Mario, played by previously mentioned Doo-Wop Guys DiGabriele and Dorf. Both DiGabrielle and Dorf play up their character's names to the fullest, DiGabrielle strutting around the stage like a banty rooster while Dorf twitches and jerks like a teenage tweeker. They once again show off their harmonizing skills during the finger-poppin',  Ain't it the Truth, a shoo-wop lesson in street life.
Then there's Brianna-Marie Bell as Jane, the black high school girl with whom Calogero becomes smitten. Having made her Broadway debut as Jane during the show's recent NY run, it's obvious she's found her comfort zone with the sweet but forthright Jane. While they only live a few blocks away, Calogero on Belmont Ave, Jane on Webster, their relationship seems a bit of a modern nod to Shakespeare's Romeo and Juliet. Bell's vocal skills and perfectly executed dance moves quickly shift the mood to that of hope and vitality.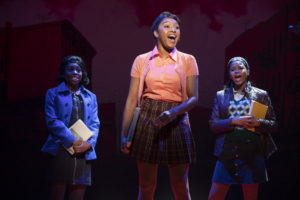 With Jane's appearance comes the arrival of her friends Denise (Ashley McManus) and Frieda (Brandi Porter) providing some much-needed female presence to this oft-male dominated piece. Much like the guys playing Calogero's crew, McManus and Porter also make the most of their limited time on stage with expected, but thoroughly enjoyed  moments of sass and disdain.
Out of Your Head features Calogero, Jane and company as the young lovers contemplate the pursuit of love in spite of what their backgrounds warn against. Trite as it may be, at the capable hands of Barreiro and Bell, it's truly one of the show's best moments.
Then it's Barbara's time to shine with the hilarious Nicky Machiavelli as Sonny Rudy and Eddie explain the Italian philosopher's views in a musical number that's firmly seated between Mac the Knife and The Rat Pack.
Act 1 wraps with another all-in for the thoughtfully poignant These Streets which features Blake's Lorenzo reminiscing about Calogero's youth and Lorenzo's promise as a father to assure his son won't be a victim of the street.
The remainder of the piece kicks off on a literal high note with Bell leading Webster Avenue, a cultural flip of the show's opening tune showcasing Bell's Jane, Antonio Beverly as Tyrone, Jane's brother, her aforementioned girlfriends and Barreiro's Calogero.
When the plot touches on tensions, both racial and cultural, Act 2 offers reprisals of Out of Your Head, this time from Jane's perspective; Ain't It the Truth, featuring Tyrone and his friend Jesse (Jason Williams), offering a Webster Ave version of the tune's original take and Look to Your Heart, as performed by Calogero's Mom, Rosina in what is easily one of the show's best vocal performances.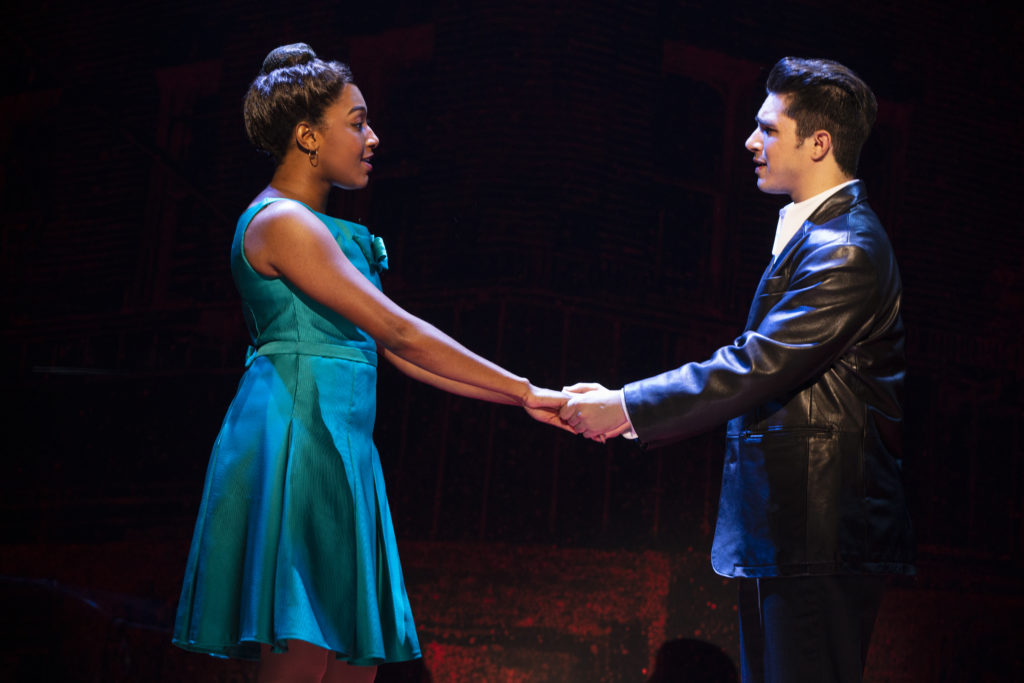 Other musical moments during the second act include One of the Great Ones, in which Sonny advises Calogero to go for it with Jane, so as not to miss out on what could be one of the great loves of his life. Later, we're treated to a reprise of One of the Great Ones.
As the action mounts and decisions must be made regarding Calogero's romance, his potential future with the organization and the actions of his friends regarding protecting their territory from their fellow man, Hurt Someone gets at the crux of the piece…fear and misguided perceptions of power and violence have the ability to empower/destroy us all.
After the drama of Hurt Someone, interestingly, A Bronx Tale ends, at least musically speaking, not terribly far from where it began with the uplifting doo-wopish In a World Like This and the anthemic The Choices We Make.
A Bronx Tale may present Palminteri's story, swayed perhaps by his years in Hollywood, with its amped up tried-and-true cinematic clichés, from forbidden love to a plethora of wise-crackin/bone-crackin wiseguys. That said, if a few modern mafia stereotypes would keep you from seeing this show…fuggedaboutit and go see it anyway. At its best, A Bronx Tale is a surprisingly sweet tale, not just of a young boy who finds favor with a neighborhood heavy, but of unlikely friendship, an understanding between father and son that is only possible with growth and maturity and knowing when to follow your heart, not your head.
A Bronx Tale continues this leg of its first National Tour in Nashville at TPAC's Andrew Jackson Hall with performances through Sunday, February 17. CLICK HERE for showtimes and tickets. Following the show's Nashville dates, the tour continues through the summer with dates in Minneapolis, Fayetteville, Oklahoma City, Chicago, D.C., Boston, Charlotte, Cleveland, Madision, Fort Lauderdale, New Haven, Fort Worth and Kansas City. For more information about the show, CLICK HERE or check out A Bronx Tale on Facebook, Instagram and Twitter.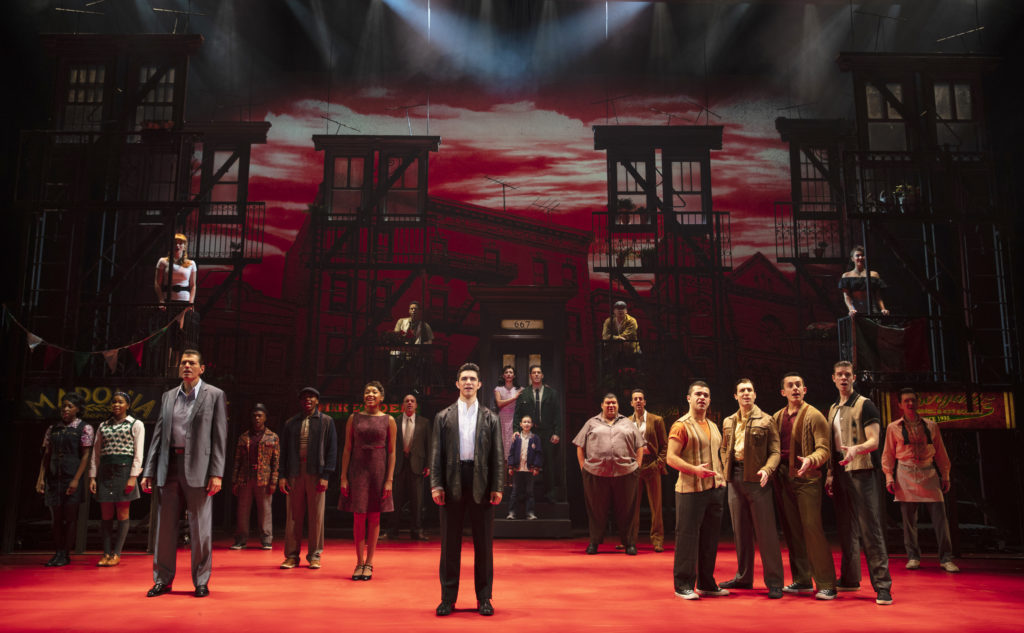 Next up at TPAC, as their Broadway series continues is the national tour of The Book of Mormon on stage at Jackson Hall, March 12-17. CLICK HERE for tickets or more information. You can also discover all the latest from TPAC by checking them out online on Facebook, Instagram and Twitter.
As always, if you are interested in coverage for your latest entertaining endeavor, simply click the contact page and drop me a note. You can also follow JHP Entertainment on Instagram and Facebook.