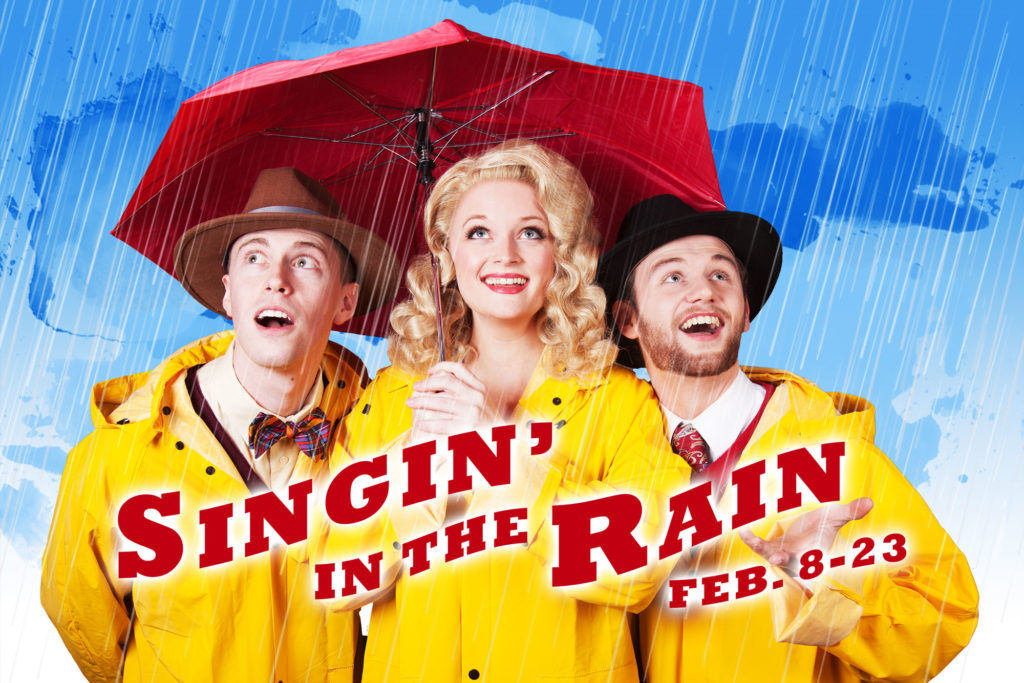 Directed by Jeffrey Ellis, Singin' in the Rain, opens Friday, February 8 at The Arts Center of Cannon County. With Jef at the helm, and a cast including Jeffrey Austin Smith, Lindsey Mapes Duggin, Daxton Patrick and Brittany Blaire Andersen, not to mention the musical is based on one of my favorite mid-century Hollywood movie musicals, you better believe I reached out to Jef and his lead actors for a chance to chat with them in my latest Rapid Fire 20 Q. As usual, Jef did not disappoint, expanding on each question with a plethora of knowledge and expertise. To coin a phrase used frequently by Jef, he's one of my favorites…at least this week. So sit back, relax and enjoy a peek under the umbrella of Singin' in the Rain.
———————————————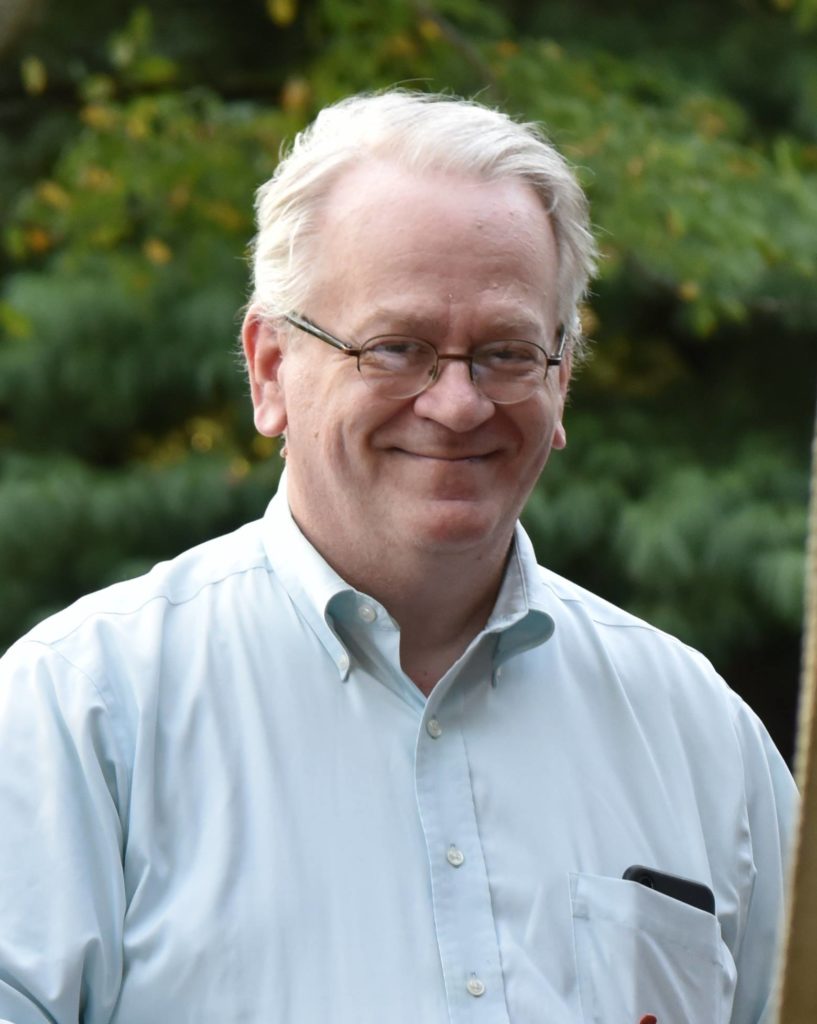 RAPID FIRE WITH SINGIN' IN THE RAIN DIRECTOR, JEF ELLIS
JHP: Let me start by saying, because of our mutual admiration of classic movies and theatre, I always love chatting with you about your latest directorial efforts. How did directing Singin' in the Rain for ACC come about?
JEF ELLIS: To put it succinctly, they made me an offer I couldn't refuse! I got a phone call asking if I would be interested in directing Singin' in the Rain and was told that the role of Kathy Selden would be played by Lindsey Mapes Duggin, whom I had cast in her first show when she was eight years old: the balloon girl in Gypsy for my production for Circle Players' 2000-2001 season.
The chance to work with Lindsey again after almost 20 years made my decision an easy one – plus, she is also my producer for this show, so we've really come full circle.
But it's the score for this show – featuring many of the very best songs by Nacio Herb Brown and Arthur Freed – that really clinched the deal. How could I possibly pass up the opportunity to direct a show featuring some of my all-time favorite songs?
JHP: Speaking of the iconic film, there are certain sequences….the couch-ography during Good Morning and the literal Singin' in the Rain that audiences expect. How do you manage to honor those beloved moments while also giving the audience something only a Jef Ellis production can offer?
JEF ELLIS: I'm so fortunate to have Maggie Richardson as my choreographer for Singin' in the Rain…she loves movie musicals as much as I do, so audiences will be delighted by the sense of the familiar that she brings to these iconic musical moments in the show. But, as you would expect, I've added some touches of my own to set this production apart from others you might have seen. There are moments when you'll see affectionate nods to some of the greatest comedy stars of old Hollywood: Buster Keaton, Harold Lloyd, Groucho Marx and Jack Benny inspired me, as have The Little Rascals from the Our Gang comedies and even The Keystone Kops – you'll see how they figure into the production.
I tend to tell a lot of stories while working on a show, serving as my own dramaturg, if you will. I was surprised how easily these stories came out in unexpected ways during rehearsal: Obviously, I've read a lot about the silent film era and the transition to talkies, and I've always been fascinated by how "normal, everyday" people became superstars in a time that movies provided an escape from the realities of life.
As you know, I grew up watching classic black and white films and if I had a dollar for every time I've sing Broadway Melody to my dog while we're out walking, I'd be a rich man indeed. Those classic movies fed my imagination growing up and now I get to capitalize on all those vivid images that still are in my heart and my mind.
Our inspiration doesn't come from just "movie stars," like Theda Bara, Pola Negri, Gloria Swanson, Norma Talmadge, John Barrymore, Dorothy and Lillian Gish, Douglas Fairbanks and Mary Pickford, John Gilbert and others of their ilk, however; I've evoked the names of directors D.W. Griffith, Cecil B. DeMille and King Vidor, producers like Mack Sennett and David O. Selznick, choreographers Hermes Pan and Busby Berkeley, and movie musical icons like Eleanor Powell, Ginger Rogers, Fred Astaire, Dick Powell and more.
All the minutiae and trivia that clutters up my brain is now paying off. In fact, I gave the note to an actor the other night at rehearsal: "Give me more Dick Powell." He seemed to know who I was talking about and adjusted to give me just that.
JHP: Considering the above-referenced rain, I'd imagine this show could pose a potential technical nightmare. What's it been like working through that aspect?
JEF ELLIS: No doubt about it, Singin' in the Rain is a technical juggernaut of a show. Not only must we make it rain onstage – and it does! – but we also have fog, twinkling lights, the Hollywoodland sign in the distance, four (or is it five?) movies we made putting all our own stars to work in film, and so many other moving pieces of an incredibly elaborate puzzle.
Daxton Patrick, our very own Cosmo Brown, is our sound and lighting designer and film supervisor, so having him on-board has been particularly fortuitous: he listens intently, seemingly hearing every idea I throw out and he makes it happen! Our scenic designer Shane Lowery has created an art deco film temple, following up on my idea to create something timeless and very much of the late 1920s, design-wise. Jennifer Rice has given us a stunning black-and-white marble-looking stage floor and an expansive section of sidewalks outside Graumann's Chinese Theatre, featuring the handprints, footprints and autographs of some of the first stars to be immortalized in the Hollywood firmament.
Another big part of Singin' in the Rain is costuming. Our actors should be dressed like film stars of the late 1920s and designer Freda Mapes has given them the fashions of the period to help them find their characters more easily.
JHP: Unlike many theatrical musicals, Singin' in the Rain was first presented as a movie musical in 1952, then adapted for the stage some 33 years later. Did its origin in film affect the way you approached it as a director?
JEF ELLIS: Of course! To be honest, Singin' in the Rain has never been one of my favorite movies despite the fact I love all the music, which is a cavalcade of classic movie musical songs. As I began to research the show and to familiarize myself with the script (which is essentially the screenplay of the film and, therefore, not a straight book musical), I became enraptured by it and decided the smart thing to do would be to pay homage to all those legendary film personalities I've always admired.
Using them as inspiration, I was able to invite my cast to learn more about them, to steep themselves in tales of the golden age of Hollywood so that our production has a firm foundation. It's been fascinating to introduce some of these movie legends to my cast and to see how eagerly they've embraced my ideas for the show.
As a result, I feel like the show – which is really a confectionary delight in many ways – has a more colorful and authentic basis that will resonate with our audiences.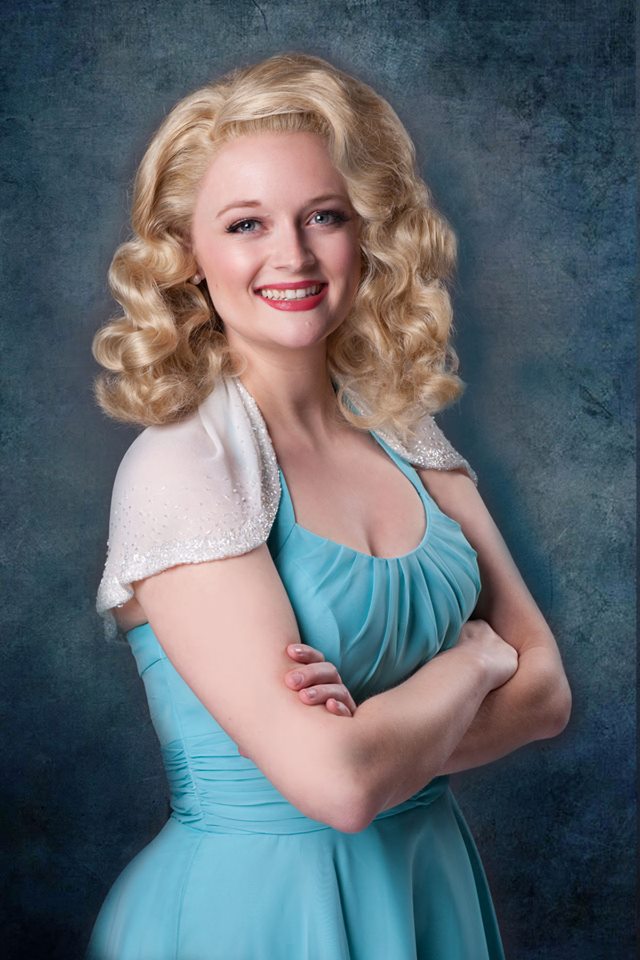 RAPID FIRE WITH SINGIN' IN THE RAIN's KATHY SELDEN, LINDSEY MAPES DUGGIN
JHP: I understand Singin in the Rain marks a bit of a reunion for you and Jef as your director, having been part of the ensemble when Jef directed Gypsy 20 years ago. You were only nine then, but do you remember your impression of Jef at the time, and does that first impression still hold true?
LINDSEY MAPES DUGGIN: Jef is one of those directors that you never forget working with. As a 9 year old just entering this magical new world of theatre, he made an incredible impact on me and what would ultimately become a career choice. What I remember most about working with Jef that first time 20 years ago, was his passion for theatre. He always encouraged the cast to do more than simply recite lines on the stage, but to actually engage the audience, bring them into our "world", and tell our story. His passion was contagious! He was definitely one of the people that lit that first spark in me and encouraged me along my path. To say that he is the same now is an understatement. I feel like time has only magnified his enthusiasm! Working with him again is so special. It has been one of those "full circle" accomplishments that you don't get very often in life, and I am thankful to have this experience.
JHP: You're playing Kathy Selden, played in the film by the fabulous Debbie Reynolds. My love for her is evidenced by a prized possession, my vintage vinyl two-record set signed personally to me from Debbie with the inscription, "Jonathan, All I do the whole day through is dream of you". So….knowing there are superfans, yours truly among them, How are you making Kathy your own?
LINDSEY MAPES DUGGIN: Kathy Selden is something of a dream role of mine, and I'm so excited to take it on! No one could ever replace or even compare to the iconic Debbie Reynolds in this role. That being said, I have definitely taken inspiration from, and plan on playing homage to her as I take the stage. Making a part your own is one of the biggest challenges an actor can face. Especially with a role that is so iconic! I have tried to bring Kathy to life by adding some of my own personality and really trying to relate to her. Kathy has a dream of becoming a great actress, she is creative and optimistic, and she has the drive and determination to make those dreams a reality. If I can live up to those characteristics, then I can bring some truth to the character and make her relatable to the audience as well.
JHP: Because the show takes place in earlier Hollywood years between silent films and talkies, the wardrobe has gotta be pretty awesome. What can you tell me about the costumes?
LINDSEY MAPES DUGGIN: The costumes have been spearheaded by my mother, Freda Mapes. She has helped costume almost every show I have been a part of since the beginning, and seems to have a natural talent for it. She was so excited to do this show knowing Jef would be directing! This show takes place in the late 1920's with all the flapper glam and sparkle! It has been so fun to play with accessories like hats, gloves, furs, and feathers. Some of the cast has even gotten involved by adding pieces that have belonged to family members. One of our cast members is using his grandfather's fedora and another is using some of her grandmother's jewelry. It makes it so special when you can add personal touches like that.  I asked my mother what her favorite musical numbers have been to costume, and she replied Broadway Melody and Beautiful Girls.
JHP: In addition to Jeffrey Austin Smith as Don Lockwood, you also share the stage with Daxton Patrick as Cosmo Brown. Using only one word each, describe your two male counterparts.
LINDSEY MAPES DUGGIN: I think this may be the hardest question in the whole interview! Ha! This is my first experience working with Austin, and If I had to describe him in one word it would be brilliant! He carries the role of Don Lockwood so well, and It is also really great to work so closely with an actor that you trust. For Daxton, I think my word would have to be remarkable! He has worked as part of the Arts Center staff with me for several months, and already took the stage by storm in the role of Jerry Lee Lewis in our production of Million Dollar Quartet. This was a completely different role for him to take on! He jumped in head first, and never looked back. Let's just say that I am an incredibly lucky lady to have two wonderful guys by my side in this show!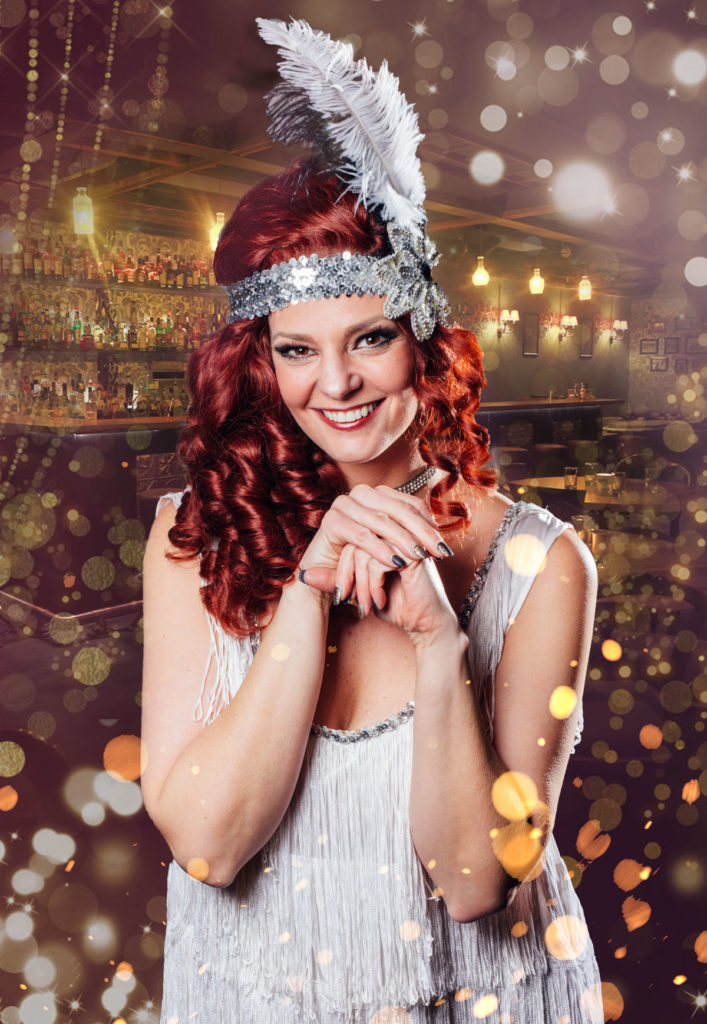 RAPID FIRE WITH SINGIN' IN THE RAIN's LINA LAMONT, BRITTANY BLAIRE ANDERSEN
JHP: I love Lina Lamont, Singin' in the Rain's silent film star who probably should remain silent due to her Betty Boop-like voice. How much fun are you having playing her?
BRITTANY BLAIRE ANDERSEN: I am LOVING being a villain! I've never played such an unlikeable character before. It was a challenge at first, but I'm finding so much more depth to her in every run through. Her voice is soooo annoying! I didn't have a hard time finding her voice, that was the easy part – incorporating her annoyingly nasal voice into a song was the biggest challenge for me! Every time I hear myself I apologize to everyone! Haha. But overall, I'm having a blast stretching myself into this larger-than-life character, while still trying to keep her grounded and authentic.
JHP: Like Jeffrey and Lindsey, you've also performed under Jef's direction, having starred as Sally Bowles in Chicago a couple years back. Since Jef is notorious for proclaiming his 'favorites', what's your favorite thing about him as a director?
BRITTANY BLAIRE ANDERSEN: I love Jef! I'm honored that he has enough faith in me to cast me in such challenging roles! I think my favorite thing about him as a director is how passionate he is about theatre as an art form, as well as the historical knowledge he has about the shows he directs. Knowing the historical context of any production, within its story as well as within the time the production was conceived, is hugely important as an actor.
JHP: One of my favorite aspects of the stage version of Singin' in the Rain is the presentation of silent movies that's usually included. I guess I love it and this musical in general, because it combines my two favorite things…movies and live theatre. I saw on social media that you guys shot your silent scenes recently. What can you tell me about that shoot day?
BRITTANY BLAIRE ANDERSEN: Isn't that such a cool aspect of this show? That was such a fun day! We went to Centennial Park and shot a few scenes. Some lady asked us to take a pic with her, haha. We were quite the spectacle. We then finished up in Woodbury. I don't think I've laughed that hard at a film shoot, ever! It was so much fun! Definitely a highlight of this production. And Dax did SUCH an awesome job filming and editing! I can't wait for everyone to see it!
JHP: Alright…my last question with you, so it's multi-part one…The soundtrack to Singin' in the Rain is simply magnificent. Prior to joining the cast, did you realize most of the tunes had appeared on other films years before appearing in the 1952 classic? Did you go back and check out clips of any of them? And lastly….what's your favorite musical moment in the show?
BRITTANY BLAIRE ANDERSEN: I have always loved this musical and its music. This may have been one of the first musicals I've seen in my life. (Thanks mom and dad!) I had not realized the songs were in other films! I'm definitely going to go check that out NOW! My favorite song from this show has always been Good Morning! It's just such a well-written song and such a great moment in the show. Of course, Singin' in the Rain is a classic and Austin does such a fantastic job with it!
RAPID FIRE WITH SINGIN' IN THE RAIN's COSMO BROWN, DAXTON PATRICK
JHP: You're playing Cosmo Brown, Don Lockwood's best pal. What traits of the character do you hope others see in you?
DAXTON PATRICK: Cosmo Brown is a very goofy and fun loving character but he has a serious side when it comes to his work. I hope that the audience can see him draw that fine line because in this story Cosmo drives all the creative decisions that are made to make the travesty that is the Dueling Cavalier into the masterpiece that the Dancing Cavalier is. If you pay attention, this story shows the rise and struggle of certain people in the movie industry when talkies took storm in the late 20's and I would like to think Cosmo was one of those to rise to the occasion.
JHP: I understand you came into the role after a necessary cast change. What about your co-stars made that an easy transition?
DAXTON PATRICK: How I came into this role was completely unexpected. I started as only the sound designer for the show when I was asked to be in ensemble and before I knew it I was one of the 3 main characters. It was scary but I was up for the challenge. My costars have helped ease me into this with their kindness and encouragement and even the production members have helped me achieve this role with their belief in me and positive words. I am thankful for those talented people who I have the honor of sharing the stage with.
JHP: In addition to playing Cosmo, you're also the show's technical director. As I mentioned when I spoke with Jef, it's definitely a tech-challenging show. What technical aspect are you most pleased with?
DAXTON PATRICK: I had a hand in lighting, sound, and video programming of this show and the script calls for tons of technical aspects but considering it is a show about movies it seems fitting. As a recent graduate of the MTSU film program, I couldn't have graduated without my knowledge of technology. Film is very much so reliant on technology so it makes sense that a musical about such a thing is so technically challenging. I am most pleased with how the old films that will be projected came out. It's the little details such as the sound quality and the frame rate of the films that help throw the audience back into the early 20th century cinemas.
JHP: A key element in pulling off technical marvels in a stage show must involve plenty of consults with the set designer, in this case, Shane Lowery. What can you tell me about Shane's design?
DAXTON PATRICK: I mostly ran into dealing with the set when it came to two things. The rain mechanism and the lighting design. The rain mechanism was built and designed by Shane himself. I just helped install it, but I did have to set some boundaries before the machine could even be built. I had to study the grid above the stage to decide where the best place would be to place this type of thing. Where we could hang something that sprayed water that was far enough away from all the tech we had mounted in order to not break any of it. Shane's rain mechanism works wonderfully with his beautiful set. His set design made it easy to design the lighting for the show. The simplistic but elegant design left me plenty of options to do what I would like with the lights. Considering there was no color to the set, it left the color up to me with the lighting design. I didn't have to worry about colors from the LEDs clashing with certain colors on stage and it really leaves me open to the entire color spectrum. Everyone will be dazzled by Shane's amazing design!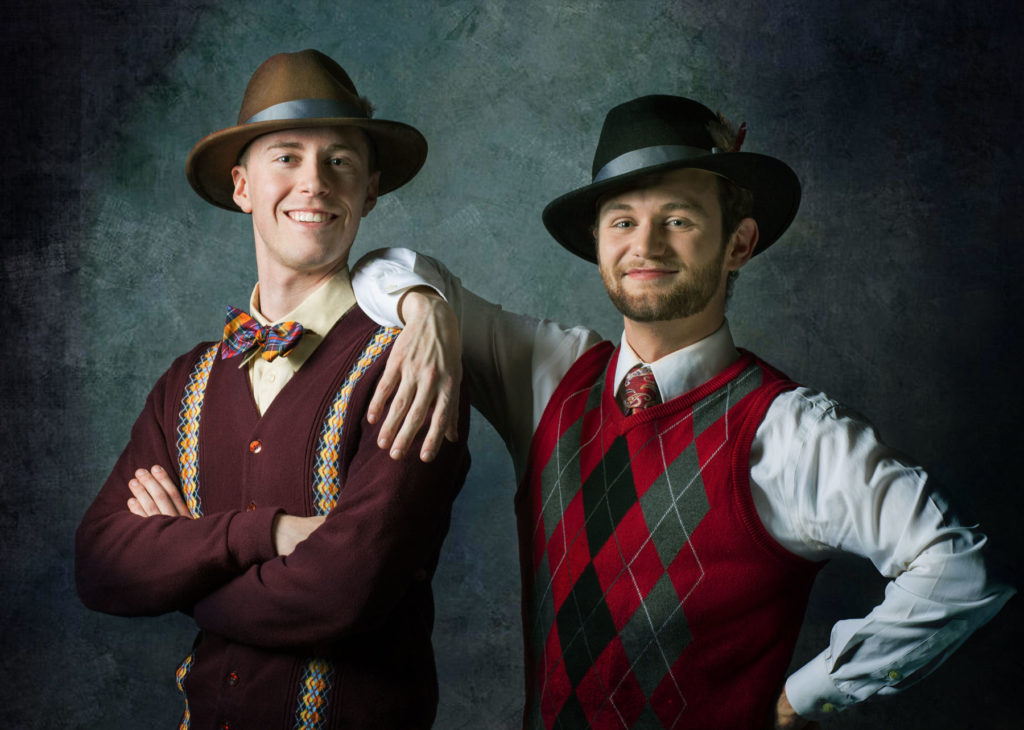 FIRE WITH SINGIN' IN THE RAIN's DON LOCKWOOD, AUSTIN JEFFREY SMITH
JHP: Since I only have four questions with each of you and you're my final interview this go-round, let's start with a three-parter. How many shows have you appeared in under Jeff's direction?….what keeps you coming back to work with him?…and…are you indeed his favorite?
AUSTIN JEFFREY SMITH: Singin' in the Rain will be my seventh show under the direction of Jeffrey Ellis. Many people, both professional and community theatre alike, when asked about why theyPersonally, theatre has changed my life by story telling. Every musical is a story in which the author(s), composer(s), and choreographer(s) have combined their full creative expression to create such a wonderful, transformative world in which an imaginative, sometimes true, story comes to life.
Jeffrey Ellis as a director does this wonderfully. In every show I have been able to work with him, he has always strived to get the story to come alive more than just people on stage, in costumes, speaking lines with expression and randomly dancing.
Jef's ability to transport an the entire audience night after night into any world comes from his direction of the actors and the use of the set. His collaboration with the set designer has never ceased to amaze both actors and audiences in the ability to time-travel and place you in the story, before a word or note had even been struck. Jef also treats everyone with the attitude and mentality of professionalism. Whether an actor is striving to become a professional, is a professional or just enjoys doing community theatre as a hobby; you will get treated no less than a professional actor.
Jef has said many, many times in various rehearsals for shows, that Theatre is a wonderful thing. Where else can you go to escape the world for two or threes hours, not even batting an eye at how long you have been sitting, and leave with a completely different demeanor or idea of the world than when you entered? This is the true magic of theatre, something Jef achieves through not only strong direction but also by entrusting in his cast and crew to come together and present a collaborative effort of a show and our art. This is why I love any chance to work with Jef; his professionalism, passion for his art and theatre, and his transformation of script to stage.
Now, in regards to being "Jef's favorite", I must say that anyone who knows Jef, knows he loves people. True favoritism is not shown in his personality. So whether I am his favorite, the world may never know! However, I will say this; I am honored to work with him as one of my mentors and proud to call him a fierce friend.
JHP: This show is physically demanding.  How much time will you have put into choreography rehearsal and prep by opening night?
AUSTIN JEFFREY SMITH: We have been in rehearsals for a little over two months but including outside dance practice, line memorization,  and musical practice it's a lot! The real people are our set builders, costume designers, and musicians. They are really the ones who put in way later hours, sometimes all night just to get the show ready. When a cast leaves rehearsal one night and comes back the next night to an almost complete set, believe you me it is nothing short of impressive and gratefully appreciated. The combined amount of time we all have put into this show is unfathomable  but in the end our grand result is worth every second!
JHP: Be honest, prior to being cast, had you ever tried a little Singin (or dancin) in the Rain?
AUSTIN JEFFREY SMITH: I'm sure in my youth I played and danced in the rain at some point in my life. I can recall a time in college where during a performance outside, it began to rain. As I've come to learn, both in life and stage, the show must go on! Rain has never bothered me, other than being cold when you walk into the grocery store and suddenly your shivering. If this lovely show, as well as portraying Don Lockwood has taught me anything, it's that singing in the rain is much like stopping to smell the roses, it is something in life that's worth doing again and again.
JHP: As mentioned above, Don Lockwood, the role you're playing in Singin in the Rain was made legendary by Gene Kelly in the original film. What's it like putting your own spin on such an iconic character?
AUSTIN JEFFREY SMITH: It is always an amazing ride to become any character, but this one has been incredible. Don goes through a lot of emotions throughout the show, as we all do in one day sometimes. Throwing myself into Don Lockwood is no less of an emotional rollercoaster every night but why do we ride such a thrilling ride? For the fun of it!  As you put it, Gene Kelly's performance as Don Lockwood is legendary, and no less some big shoes to fill. For me, Don has a special place in my heart because of his charm and charisma. Old Hollywood films always have these big over-lavished environments and emotions that are true to the feeling. Making this believable in 2019 is nothing short of difficult as movies, tv series and books today have made old romances like Singin' in the Rain laughable or silly to most. Yet, the emotion is just as strong and whether people admit it or not it's how we all feel. Jef opened my eyes to something about musical theatre in our first production together but it especially rings true with old movie musicals. When a person or an ensemble, be it stage or movie musicals, suddenly burst into song, many find that strange and non-life like. Really though, it is just the absolute explosion of emotion. Singing and dancing comes when emotion can not be expressed any other way but to expose oneself entirely. Many fans of Singin' in the Rain will recall the song You Were Meant For Me. This is a song in which Don does just as I've described. I won't go into any more details of course, you'll just have to come see our show to find out!
———————————————
Beginning Friday night, February 8, audiences will have a chance to revel in the joys of Old Hollywood as only director Jeffrey Ellis could envision when Singin' in the Rain debuts at The Arts Center of Cannon County (1424 John Bragg Highway, Woodbury, TN) with performances Fridays and Saturdays at 7:30 p.m. and Sundays at 2 p.m. through Saturday, February 23. Tickets are $15 for Adults, $13 for Students and Seniors (65+) and $12 for groups of 10 or more. CLICK HERE for tickets or more information or check out The Arts Center of Cannon County online or on Facebook.