For their February offering, Nashville Repertory Theatre has chosen playwright Suzan-Lori Parks' thought-provoking 2002 Broadway play, Topdog/Underdog. The debut production garnered the playwright the Pulitzer Prize for Drama, the first such honor awarded a woman of color. The two-person story centers around brothers named Lincoln and Booth (obviously those names are no coincidence and not surprisingly, key to a certain plot point) as they face the day to day struggles of making their way, and their mark on the world; a world filled with preconceived notions and expectations for men of color. Eddie George, yes, THAT Eddie George, he of the 1995 Heisman Trophy, stars as Linc, the oldest of the two brothers, while gifted Nashville-based actor, Joel Diggs stars as Booth. At the helm of Nashville Rep's production is director, Jon Royal. Royal previously directed The Rep's Smart People last February. Among Royal's other notable directorial efforts, Street Theatre's brilliant 2014 production of Passing Strange and Nashville Shakespeare Festival's Othello, which also starred Eddie George.
Always excited to chat about shows that are a bit unfamiliar to me, I recently had the opportunity to reach out to the stars and the director for the latest in my recurring interview feature, Rapid Fire 20 Q. Unfortunately, due to circumstances beyond my control, George was unable to participate. Thankfully, Diggs and the director were available, so I give you an abbreviated, yet informative and revealing Rapid Fire 13 Q.
———————————————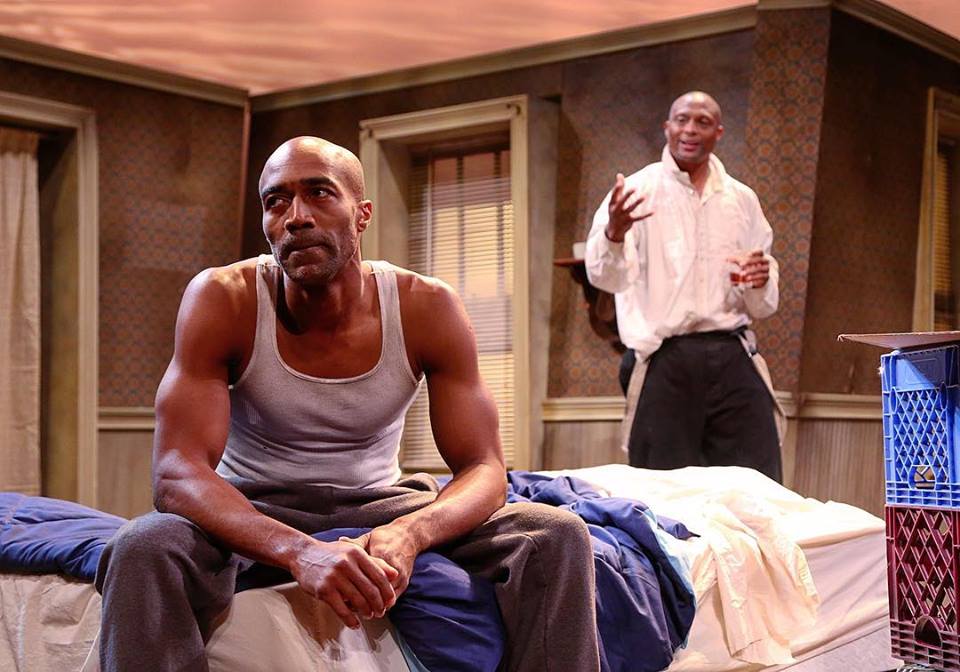 RAPID FIRE 13 Q WITH TOPDOG/UNDERDOG STAR JOEL DIGGS AND DIRECTOR JON ROYAL
RAPID FIRE WITH TOPDOG/UNDERDOG STAR, JOEL DIGGS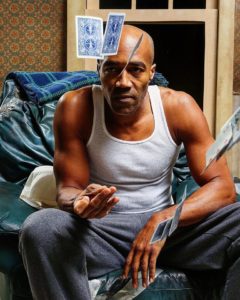 JHP: How familiar were you with the work prior to being cast as Booth in Nashville Rep's Topdog/Underdog?
JOEL DIGGS: I was somewhat familiar, in that I knew of Suzan-Lori Parks, and that she wrote this great piece, but I had never read it. I did see the production with Eddie and Jeff Carr many years ago though.
JHP: What can you tell me about Booth?
JOEL DIGGS: Booth is deeply troubled, caused by his parents abandonment of he and his brother. He is a very impulsive person, who wants love so bad, he creates fantasies to fill that void.
JHP: While the playwright delves into more serious aspects of the brother's relationship with each other, there's still that unbreakable bond of brotherhood. In what ways does the dynamic between you and your co-star, Eddie George mirror that of the relationship between your characters?
JOEL DIGGS: He's someone who is very well known, and I can see how that relates to Booth admiring Lincoln, because "Linc's the Man!" Eddie and I are relatively the same age and have many things in common, as well.
JHP: Among the subplots, there's the inheritances the brothers were left. While Lincoln opened his and spent it, Booth kept his, never opening it, which seems somewhat uncharacteristic for Booth. What's the significance of this?
JOEL DIGGS: I believe Booth is trying to hold on to the memory of hope in his mother.
JHP: Other subplots deal with the brothers and their relationships with women, Linc's wife, Cookie and Booth's girlfriend, Grace, who are spoken of, but never seen. Why do you think the playwright chose to mention the women, but not include them as part of the cast. 
JOEL DIGGS: The women can be felt very strongly, but I feel the playwright may be showing the plight of the Black man in America, the so called head, being disposable, therefore dooming the entire family.
JHP: What is it about Booth that drove you to the role?
JOEL DIGGS: I know people like him, and the challenge of bringing him to life. 
JHP: The entirety of the play is presented as a two-man show. What's the biggest challenge and biggest reward in sharing the stage with only one other actor?
JOEL DIGGS: The reward is getting to tell such a beautifully written story, and having to deal with so many layers, an actor's dream. The challenge is the amount of work it takes to do that!
RAPID FIRE WITH TOPDOG/UNDERDOG DIRECTOR, JON ROYAL
JHP: How did directing Topdog/Underdog for Nashville Rep come about?
JON ROYAL: Rene Copeland asked me how I felt about this script last February. I told her that I loved it! She asked if I'd be up for directing it about a month later.
JHP: From the beginning, did you have a clear vision of what you wanted for the Pulitzer-winning piece?
JON ROYAL: After reading and rereading the piece, I felt like I had a clear understanding for what the script was telling me it was about, but developing that is the biggest part of my job as the director.
JHP: What was it about Eddie George and Joel Diggs' auditions that spoke to you as a director?
JON ROYAL: I'm pretty sure that Eddie and Rene had already talked about him playing Lincoln, so that meant that the search was on for an actor to play Booth. Joel is very natural onstage. They have great chemistry together.
JHP: How would you categorize you style of directing as it relates to Topdog/Underdog?
JON ROYAL: My style of directing for this piece has been about the beautiful delicious beats that Suzan has written.
JHP: Why is this play, and this production in particular, an important piece for the Nashville theatre community?
JON ROYAL: It's important because this play is incredible. It's such a densely, well written piece that connects with people across all walks of life. It's been produced here twice and a playwright of Suzan-Lori Parks' caliber should be presented to our local audiences even more. To Rene and the Rep's credit, this is the third season in a row that this company has produced a play written by a black woman, as part of their season. I've been here all of my life, I'd say this kind of consistency is long overdue. 
JHP: What do you hope audiences come away from Topdog/Underdog feeling or contemplating?
JON ROYAL: I hope that audiences contemplate what it means to be in community with each other, as in we are all family. I hope we also look at what we've inherited from our birth families and what we've inherited from America.
———————————————
Nashville Rep's Topdog/Underdog concludes its run at TPAC's Andrew Johnson Theatre with performances Saturday, February 23 at 2:30 p.m. and 7:30 p.m. and a final matinee on Sunday, February 24 at 2:30. CLICK HERE for tickets or more information.
Following Topdog/Underdog, Nashville Rep continues their current season with Lee Hall's stage adaptation of the popular film, Shakespeare in Love with performances March 23-April 13. CLICK HERE for tickets. To keep up with the latest from Nashville Rep, CLICK HERE, or follow them on Facebook, Instagram and Twitter.
If you've enjoyed this Rapid Fire, CLICK HERE to check out previous conversations with the who's who of Nashville's theatre scene.
Interested in coverage for your latest entertaining endeavor? Click the contact page and drop me a note. You can also follow JHP Entertainment on Instagram, and Facebook.