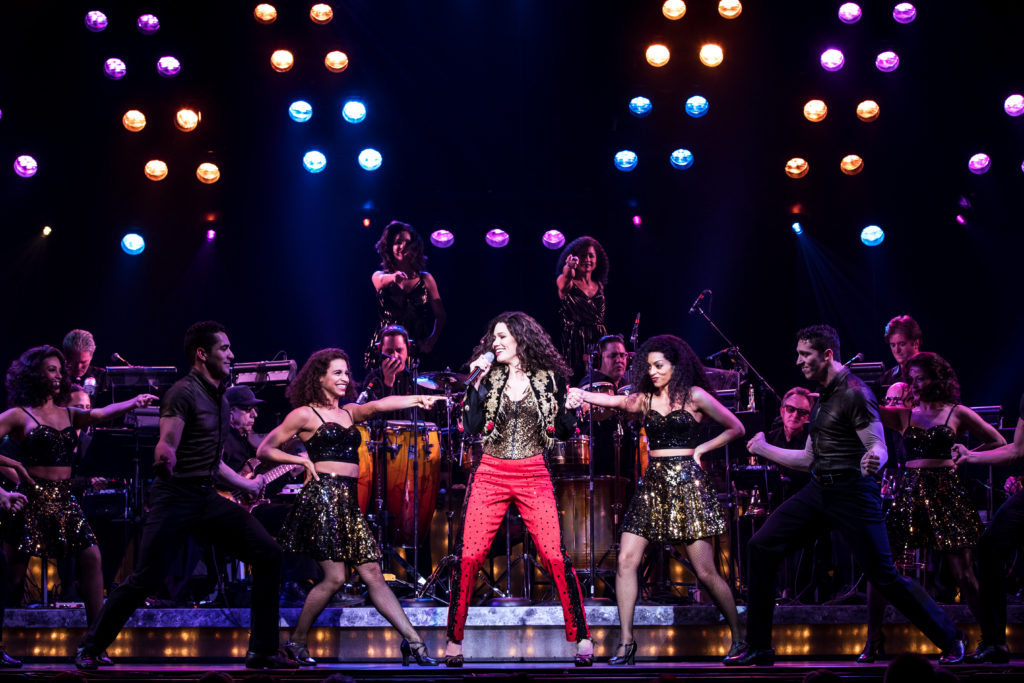 On Your Feet opened the Nashville leg of its current National Tour on Tuesday, January 15 at TPAC's Jackson Hall. The high-octane biographical jukebox musical—whose subheading is The Emilio and Gloria Estefan Broadway Musical—continues in Nashville with performances through Sunday, January 20.
Directed by Jerry Mitchell, On Your Feet begins even before the curtain rises, giving the feel of a attending an electrifying concert full of laser lights swirling, spotlights bouncing and the familiar beat of Gloria Estefan's 1987 mega-hit, Rhythm is Gonna Get You, informing the audience of just that. With a story that's true, albeit conveniently told through a slightly contrived book by Alexander Dinelaris, it's the soundtrack of hit after hit after hit produced and recorded originally by Gloria, her husband Emilio Estefan and The Miami Sound Machine that's the guiding force behind this musical extravaganza.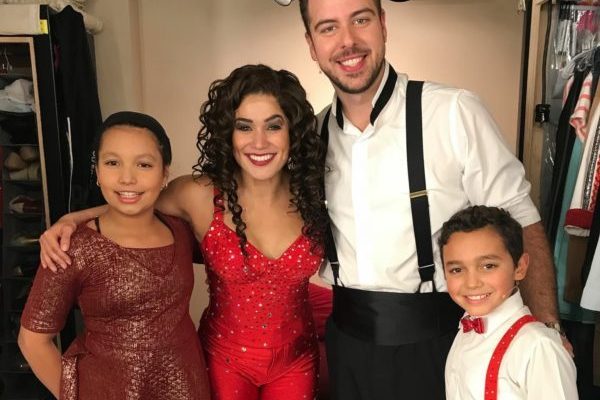 Christie Prades stars as Gloria, and, as of Tuesday's Nashville debut, co-stars Eddie Noel as Emilio. Noel having previously been featured in the show as Gloria's father, Jose Fajardo. Prior to headlining the current touring company, Prades was part of the show's Broadway run as understudy for the lead and a member of the swing cast. In the spotlight, Prades not only embodies the physicality of the real Gloria Estefan, but she also perfectly matches the seven-time Grammy-winner's deeply soulful vocal skills and that unmistakable way the beloved singer often switches octaves within a single note. As for her newest co-star, Noel's handsome features are only surpassed by the equally impressive richness of his vocals, making the audiences quickly forget that Nashville marks his debut performance as the male lead.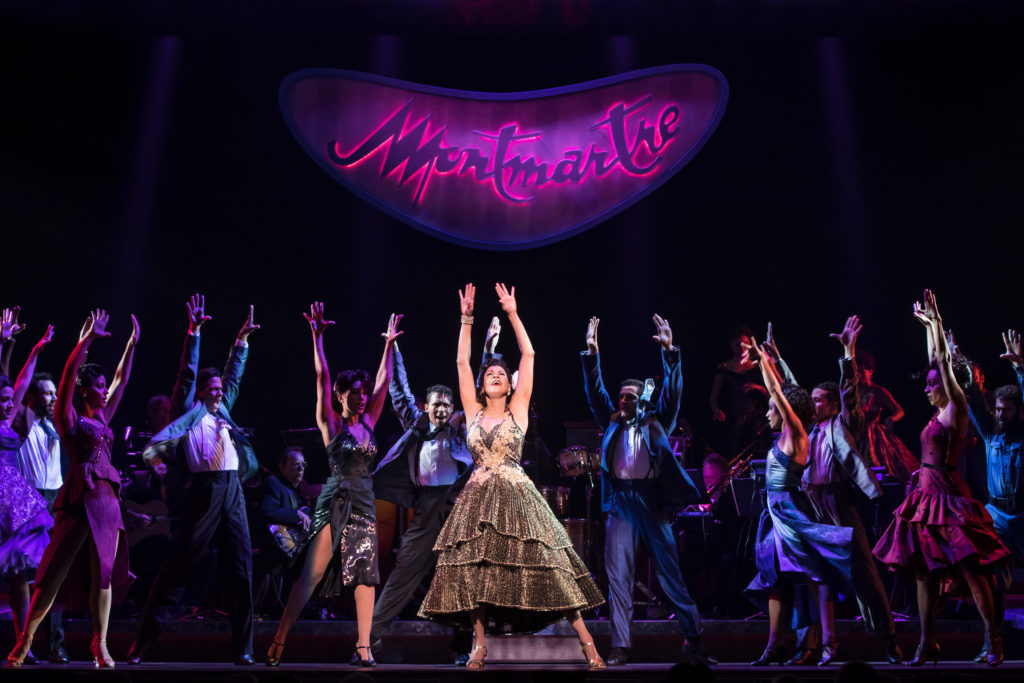 Other stand-out performances amongst the cast include Nancy Ticotin as Gloria's mother and Alma Cuervo as Consuelo, Gloria's grandmother. Cuervo, who originated the role of Gloria's grandmother when the show debuted on Broadway steals every single moment she's onstage.
Speaking of scene-stealers, the younger members of the cast include Jeanpaul Medina Solano and Jordan Vergara sharing responsibilities as Young Emilio (and various other young boys throughout the show) and Ana-Sofia Rodriguez and Carmen Sanchez alternating as Little Gloria.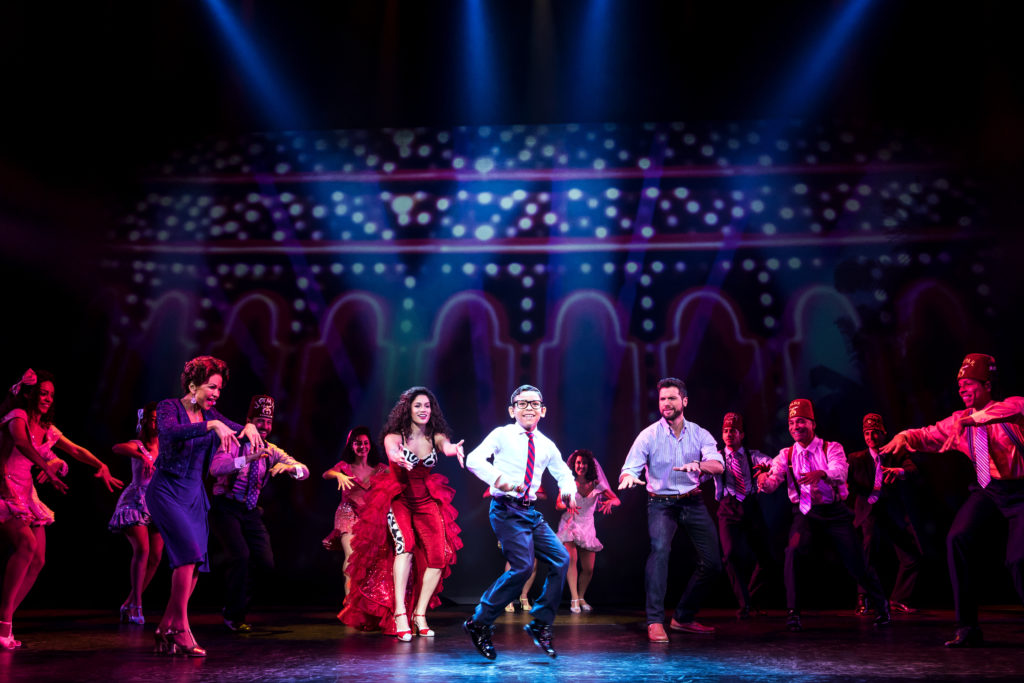 While the story of On Your Feet is a bit predictable, especially for anyone who grew up in the era of Miami Sound Machine and the rise of Gloria Estefan's career from Latin sensation of cross-over legend, it's absolutely the Rhythm that's Gonna Get You. To that end, rather than musicians being hidden away in the orchestra pit, as is standard practice for a touring musical, On Your Feet showcases the musicians on stage and what a group of musicians they are!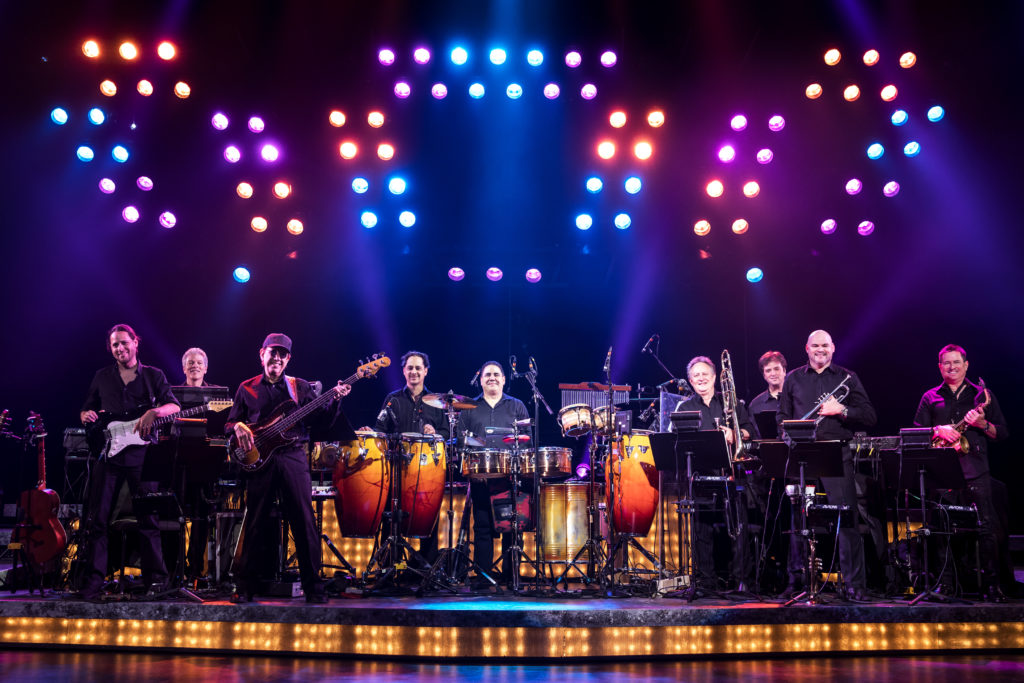 This show band isn't just any show band, for the National Tour of On Your Feet features multi-Grammy-winning musicians from actual Miami Sound Machine roster, including Music Director Clay Ostwald (keyboards), who is Assistant Music Director of Miami Sound Machine, Teddy Mulet (trombone), Mike Scaglione(reeds), Jorge Casas (bass), who is Music Director of Miami Sound Machine, and Edwin Bonilla (percussion). Other members of the orchestra include Emmanuel Schvartzman (Associate Music Director/keyboards), Jose Ruiz (trumpet), Stephen Flakus (guitar), Jean-Christophe Leroy(percussion) and Colin Taylor (drums), keyboard programmer Randy Cohen, associate keyboard programmers Jeremy King and Taylor Williams and music coordinator, Patrick Vaccariello.
As for the story itself, through flashback, On Your Feet takes the audience back to Gloria's youth in Cuba singing and dancing for her beloved grandfather, we also see a scene in Vietnam where her father listens to a cassette recording of his daughter singing traditional Cuban songs while his fellow soldiers tease him that she should sing some Diana Ross next time. Gloria's Tradición (a single from Gloria's 1993 all-Spanish album) is featured during this sequence. As the story unfolds, we learn that her family fled to Miami as Batista was overthrown. Not spending too much time on Gloria's youth in Miami, a clever scene quickly ages Gloria into an adult pursuing her dreams of performing. This portion of the narrative reveals that as an adult, Gloria was responsible for the care of her invalid father and her younger sister while her mother provided for the family. Perhaps it was her mother's own dashed dreams of stardom—we later learn that prior to feeling Cuba she was on the verge of signing a Hollywood contract to provide the Spanish-language voiceover for Shirley Temple—or her mother's unavoidable forced reality, whatever the cause, it's quickly evident that Gloria's mother isn't 100% behind her daughter's musical aspirations. Luckily for Gloria, her Grandmother felt differently and encouraged her. In a wink of dialogue between Gloria and her Grandmother, her abuela tells her she'd do Anything For You, nicely leading into Gloria performing a stripped-down version of the song.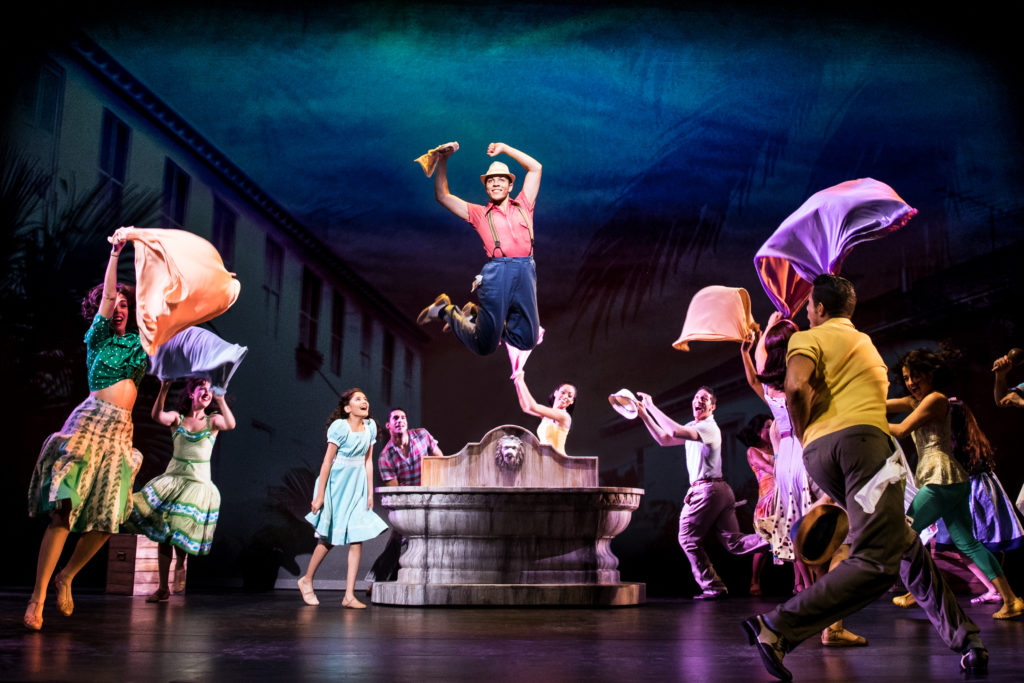 Gloria quickly catches the eye of Emilio Estefan, who at the time was leader of the regionally popular Miami Latin Boys.  I See Your Smile and Here We Are nicely pair with the action of their budding romance.
Proving formulaic, the musical then switches gears to the typical girl meets boy scenario, even interjecting a few humorous jabs at Emilio's accent reminiscent of quips frequently used strictly for laughs on I Love Lucy when Lucy would poke fun at Ricky's heavy accent.
Dr. Beat, which cracked the Top 20 charts in nearly a dozen countries worldwide, cranks up the action and sets the pace for the rise of Gloria's star.
One of the show's most memorable moments comes at the end of Act 1 when, in an effort to self-promote, Gloria, Emilio and company play everything from Italian weddings and Jewish bar mitzvahs to Shriner's conventions in Las Vegas. All set the the infectious blockbuster hit tune, Conga.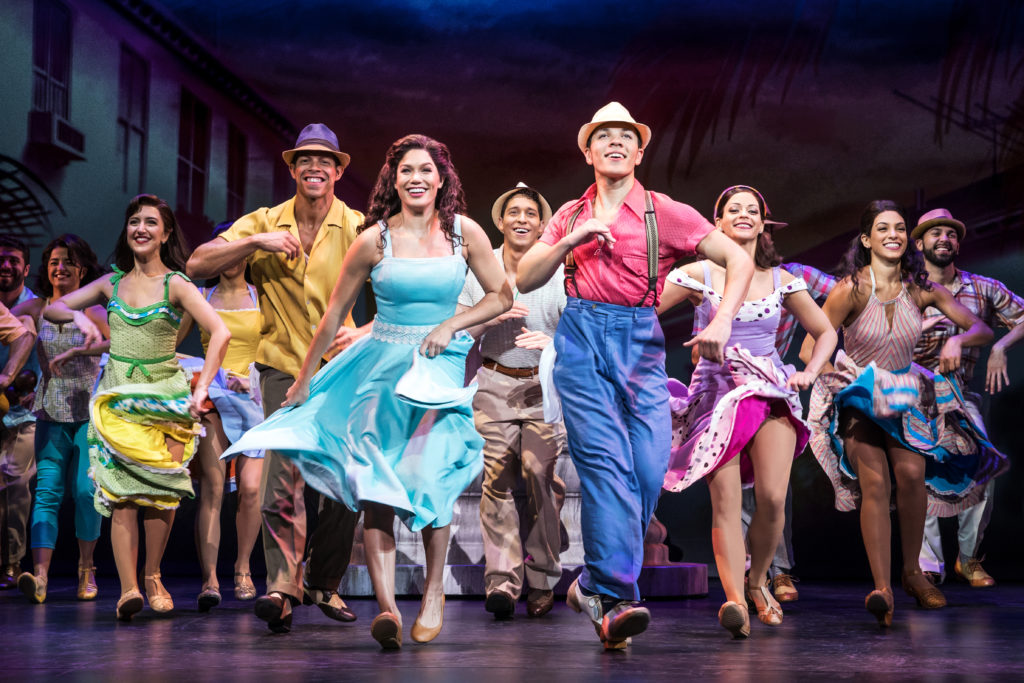 Act 2 kicks off with the high-energy Get on Your Feet and just as quickly gets to the drama of the story with strain between Gloria and her mother, and the inevitable retelling of the tragic bus accident that nearly caused Gloria's life, ability to walk and her career. These plot lines are highlighted by musical interludes as varied as 1991's Live for Loving You, Oye Mi Canto (from Gloria's first solo project in 1990) and If I Never Get to Tell You, a song with lyrics by Gloria and music by her and Emilio's daughter, Emily Estefan, that was written specifically for the musical.
An interesting choice to be sure, when Gloria is taken in for spinal surgery, the audience is privy to a strange dream-sequence akin to the oddly placed Dream Ballet from Oklahoma. Aesthetically beautiful and expertly danced by the ensemble, as choreographed by Sergio Trujillo, it's just an odd moment in the show, especially at number's end when Little Gloria joins her deceased relatives…perhaps a metaphor for Gloria's growth an rebirth after the accident. Nonetheless, it's just an odd moment.
Speaking of the show's choreography, whether the sequences call for celebrating in the streets of Cuba, rehearsals for the up-and-coming Miami Sound Machine, full-on Concert scenes, or intimate nights between Gloria and Emilio, Trujillo and the show's ensemble hit every mark. There's even a scene in the second act where the ensemble, wearing wooden-heeled sandals perform a sort of tap dance to a traditional-sounding Cuban tune. Pure joy!
Thanks to a talented ensemble, scene-stealing supporting cast and leads who perfectly capture the passions and talents of Gloria and Emilio, as the National Touring company of On Your Feet continues its run in Music City and across the country, audiences are sure to heed the show's title and get on their feet!
On Your Feet continues at TPAC's Jackson Hall with performances Thursday, January 17-Sunday, January 20. Thursday evening's performances begins at 7:30 p.m. Friday & Saturday evening curtain is at 8 p.m. Saturday matinee begins at 2 p.m. and on Sunday, January 20 there will be a 1:00 p.m. matinee and a final 6:30 p.m. performance. Tickets range in price from $50 to $95. Click Here to purchase tickets.
Following the Nashville dates, On Your Feet continues across the country with stops in Minneapolis, Oklahoma City, Memphis, Grand Rapids, Omaha, Dayton, Louisville, Cincinnati, Worchester, Hershey and Ft. Worth through April. For tickets or more information about the tour, CLICK HERE. You can also follow the tour on Facebook, Twitter and Instagram.
Next up at TPAC, as their Broadway series continues is the national tour of A Bronx Tale, on stage at Jackson Hall, February 12-17 CLICK HERE for tickets or more information. You can also discover all the latest from TPAC by checking them out online or on Facebook, Instagram and Twitter.
As always, if you are interested in coverage for your latest entertaining endeavor, simply click the contact page and drop me a note. You can also follow JHP Entertainment on Instagram and Facebook.