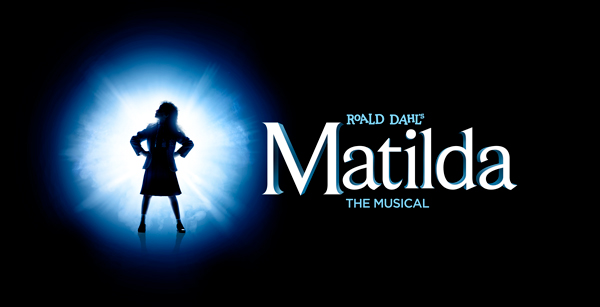 It's been three years since Nashville theatre audiences had the opportunity to see Matilda: The Musical when the National Tour came through Music City. Thanks to Curtis Reed and the team at Expression City, all that's about to change this weekend as Bradley Moore directs the regional theatrical premiere of the beloved Roald Dahl story of a precocious young girl with a penchant for elaborate stories and a touch of telekinesis; at Expression City's gorgeous new Roy E. Barberi Theatre (1724b Gen George Patton Drive Brentwood, TN) for three shows only, Friday and Saturday, March 29 and 30. Matilda stars Audrey Rowels in the title role and features a mix of professional actors, adults and student performers. As the cast prepared for Opening Night, I recently chatted with director, Moore and a few members of his cast, including Reed, who's playing Agatha Trunchbull; Elizabeth Turner, cast as Mrs. Wormwood; John Mauldin, appearing as Mr. Wormwood, for the latest in my recurring interview feature, Rapid Fire Q&A.
———————————————
RAPID FIRE WITH MATILDA'S CURTIS REED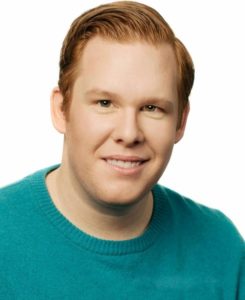 JHP: In addition to being the company's Musical Theatre Program Director, you're also choreographing and appearing in Matilda as Agatha Trunchbull. What can you tell me about Agatha?
CURTIS REED: Yes, I have been with the company since its start and have helped build their musical theatre program into what it is today. I have a secret love for playing the villain. It's always a bigger stretch, and with this particular character having so much comedy built in, it has been a dream come true. I may not be 6 feet tall or taller like those who played her on Broadway, but I have a very large personality that i think makes up for what I lack in stature. 
JHP: Aside from the National Tour that played TPAC a few years back, this marks the regional theatrical debut of Matilda. How did mounting it at Expression City come about?
CURTIS REED: Allison Barberi, the owner and founder of Expression City and I have talked about it for a while now and we both said, the second it becomes available let's apply. We were fortunate enough to be able to stage the first premiere of the show here in Nashville and that is huge for us! Especially is a growing company only 3 years old.
JHP: What is it about Matilda that makes it a perfect fit for Expression City's current season?
CURTIS REED: These kids that are part of our program are crazy talented. We have a lot of girls and a good handful of boys. We knew this would be the next challenge that they could definitely take on. With close to 20 kids having to learn British accents and pull them off—along with a style of choreography they aren't used to and a story that is a bit darker in nature,—they have all risen to the expectation. 
JHP: You've worked alongside Bradley Moore in a number of shows over the years, but this is his first time directing for Expression City. What's been the best aspect of having him direct this show?
CURTIS REED: Not only is he a dear friend, he is a respected and admired colleague. I was so happy that I could bring him in and we could finally collaborate on a show on the same side of the table. The kids love him and we have a stellar adult cast as well. We are so looking forward to sharing this project with Nashville. Bradley's direction keeps it fresh and constantly moving. This show is a beast!
RAPID FIRE WITH MATILDA'S BRADLEY MOORE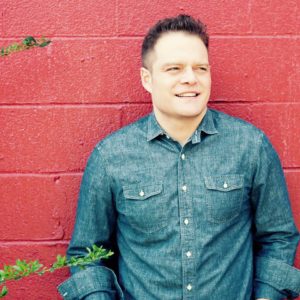 JHP: When I chatted with Curtis, I asked him about working with you as a director, so I'll start by asking you about directing Curtis. How has it been working with him and the rest of the cast of Matilda?
BRADLEY MOORE: This is actually the fourth show that I have directed Curtis in and I am always so lucky to have that opportunity. He is always a team player and one of the most talented, committed performers I know. The difference on this show was that he was not only playing one of the main characters, but also the Choreographer & Music Director. So we finally had the opportunity to collaborate on all things creative. That was a gift! We have been close friends for years and always talked about working together in different capacities and it finally happened! We were both clamoring to do Matilda so this was definitely kismet. And the cast is incredible. Such a ridiculously talented group of kids and professional actors. And I get to work with Cecilia Lighthall as my Stage Manager! I could not have asked for a better situation to present this Tennessee Premiere!
JHP: This is your first time directing a show at Expression City. What was behind your decision to join the team in this capacity?
BRADLEY MOORE: The short answer: Curtis. For the past year, he had been very adamant about bringing me into the Expression City family. And for that, I am super grateful. Friends who go to bat for you and try to help you achieve your dreams are extremely rare. Then back in December, he had cast me in Newsies at Expression City, which was my first experience with the studio. I loved every minute. The kid's passion and energy is infectious. The environment at Expression City is very positive, encouraging, and warm. I couldn't think of a better place to create art.
JHP: What do you hope audiences come away feeling after experiencing Matilda?
BRADLEY MOORE: Matilda is one of those shows that has all the feels; It's hilarious, heartwarming, heartbreaking, sad, scary, and a million other emotions. I think that each audience member will take something different away from the show. As long as they leave with a smile and maybe a tear in their eye, then we have definitely done our job as artists.
JHP: I understand your cast includes 18 student performers. What's the most exciting aspect of directing theatre kids?
BRADLEY MOORE: Remembering that I was them. I think back to when I was their age and realize how much I learned from my directors and the seasoned actors I was lucky enough to work with. To possibly be that person in these kids' lives is a powerful thing. Kids are sponges and they are so eager to learn and better their craft. And I keep saying kids, but these "young actors" are a level of professional that I don't even think I was at their age. The whole experience has been beyond rewarding for me. 
RAPID FIRE WITH MATILDA'S ELIZABETH TURNER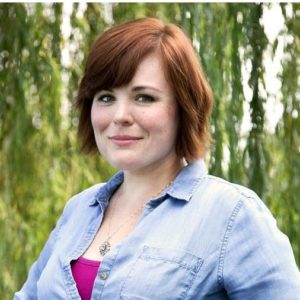 JHP: You play Mrs. Wormwood. What's your favorite thing about her?
ELIZABETH TURNER: Boy, I wish I had one ounce of her self-confidence! She literally dances like EVERYONE'S watching. 
JHP: This is your first time being in a show at Expression City. Are you having fun?
ELIZABETH TURNER: I am having a great time!  I was on a bit of a self-imposed theatre sabbatical after having my daughter Eleanor in 2017, and I am really happy this was the show that got me out of my "mom cave." The cast is extraordinary with great chemistry. And of course, I always enjoy working with Bradley.
JHP: As Matilda's mother, you share scenes with both Audrey Rowles, who's playing Matilda, Braden Wahl, who plays Matilda's brother, Michael and John Mauldin, who's playing your on-stage husband, Mr. Wormwood. What's it been like being part of this particular family?
ELIZABETH TURNER: Oh, you know, we're just your typical Norman Rockwell family, with a hint of John Waters mixed in for variety!  Audrey is such a sweet, talented, and grounded young actor. She carries the lion's share of the show's lines and songs, and I'm so impressed with her abilities. Braden and I graduated from the same theatre program at Tennessee Tech a few years apart from one another, so it's been a lot of fun talking about productions and mutual friends back in Cookeville. 
John has been an absolute pleasure to work with. He's such a nice guy that it's tricky to constantly be yelling in his face and slapping him around onstage.
JHP: A big theme behind Matilda seems to be marching to your own drum, changing your own story. I understand you have a young daughter yourself. While she's still a toddler, have you given any thoughts of how you'll instill that attitude in her?
ELIZABETH TURNER: Great question!  My husband (Toby Turner) and I have had many talks about what we think Eleanor will be like when she's older. I often joke that, it'd be just our luck that the two actor parents would have a child who is only interested in sports. But, of course, we will support her interests whatever they may be, and in the end, what really matters to us is that she's happy with who she is, both inside and out, and that she is not afraid of being her 100% authentic self. To quote Kacey Musgraves, "just follow your arrow wherever it points!"
RAPID FIRE WITH MATILDA'S JOHN MAULDIN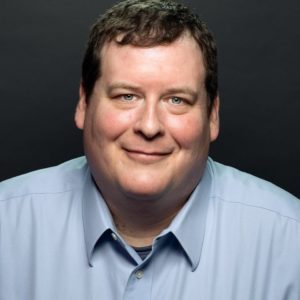 JHP: What can you tell me about Mr. Wormwood?
JOHN MAULDIN: He is probably an example of one of the worst parents in the world in the sense that he is not compassionate to his youngest child, Matilda, who he wished was a boy.  He is a used car salesman who has grand schemes that aren't fully thought out which have disastrous results for the family.  Ironically, his blunderings lead to one of the most heartwarming stories in Matilda.
JHP: Matilda tells the story of a precocious 5-year old who takes refuge among the library. As a kid, what was your escape?
JOHN MAULDIN:  My imagination was my escape. I would create narratives for my G.I. Joes; ya know secret rescue missions and what not.
JHP: For this who may not be familiar with the story, Mr. Wormwood is Matilda's father. Audrey Rowles is playing the title role. What can you tell me about your young co-star?
JOHN MAULDIN: She is an amazing kid with oodles of talent. The audience is going to love her. She has been a real treat to work with.
JHP: This is your second show with Expression City, having appeared in their recent Newsies production. What's the most gratifying aspect of working with a theatre company focused on younger actors and audiences?
JOHN MAULDIN: It is a joy to work with these kids.  Their commitment to honing their craft is inspiring.  The performance level these kids reach is a testament to the training they receive at Expression City.  I am pleased that I may have a small part in mentoring tomorrow's theatre artists.  It is so rewarding to be a part of the process.
———————————————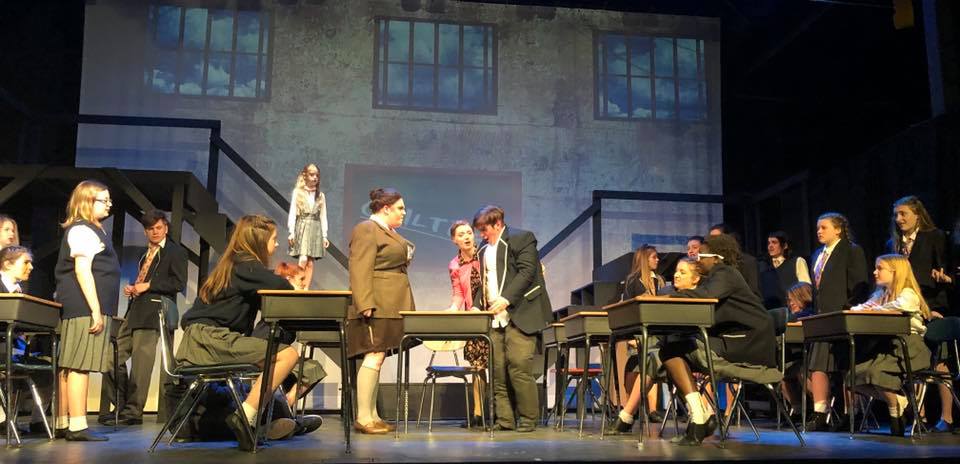 Expression City's Matilda plays the Roy E. Barberi Theatre for  only three shows, opening Friday, March 29 at 7:00p.m. then continuing Saturday, March 30 with a 2p.m. matinee and a final performance Saturday night at 7 p.m. At the time of this article, a very limited number of tickets remained, but you can always hope for a Miracle or get a little Naughty and CLICK HERE to purchase tickets. Next up for Expression City, the company will present a Music Recital on May 11, then Thoroughly Modern Millie, Junior performances May 31-June 1, followed by a Mary Poppins Theatre Camp and performance in July. To learn more about Expression City's Programs, Classes and more, CLICK HERE. You can also find them on Facebook, Twitter and Instagram.
If you've enjoyed this Rapid Fire, CLICK HERE to check out previous conversations with the who's who of Nashville's theatre scene.
Interested in coverage for your latest entertaining endeavor? Click the contact page and drop me a note. You can also follow JHP Entertainment on Instagram, and Facebook.