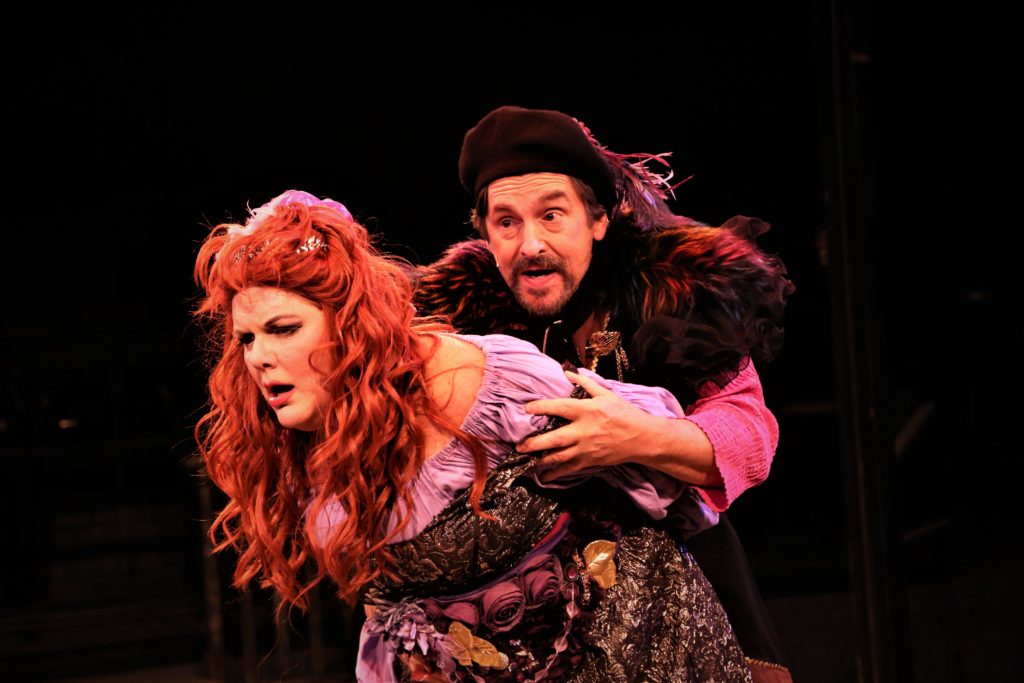 Directed by Everett Tarlton, this weekend marks the final two chances for audiences to see Chaffin's Barn Dinner Theatre's wonderfully riotous romp that is Kiss Me, Kate. Full to the brim with Cole Porter tunes, Kiss Me, Kate tells the tale of a diva film actress returning to the stage in a musical stage adaptation of William Shakespeare's Taming of the Shrew that just so happens to co-star and be directed by the actress's ex. Chaffin's own grande dame of the theatre, Martha Wilkinson stars as the diva with Matthew Carlton playing opposite her as her estranged ex husband.
Since I posted my review of the show opening weekend, it seems appropriate that I mark the end of the play's run by sharing my latest Rapid Fire Q&A.
Busily juggling starring in their current production and seamlessly moving into directing the debut of their next production, Dan Zimmerle's biblical musical, Esther, Wilkinson kicked things off with bit of interesting insights concerning returning to a role she debuted on the very same stage some years ago. The conversations continue as I chat with her then and now co-star, Matthew Carlton, as well as Mallory Mundy, Caleb Pless and Timothy Fudge.
———————————————
RAPID FIRE Q&A WITH CAST OF CHAFFIN'S BARN DINNER THEATRE'S KISS ME, KATE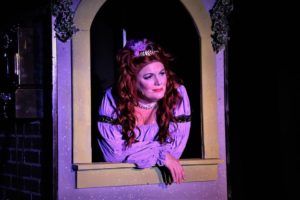 RAPID FIRE WITH KISS ME, KATE'S MARTHA WILKINSON
JHP: I understand this production of Kiss Me, Kate might conjure a bit of a déjà vu for you and your co-star Matthew Carlton?
MARTHA WILKINSON: Yes, Matt and I played Lilli/Kate and Fred/Petruchio in 1993 at Chaffin's under Rene Copeland's direction. We were too young then but, it's magical to return to  this show with him again.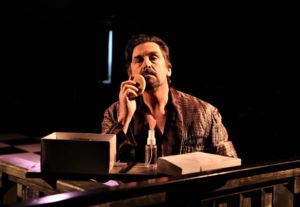 RAPID FIRE WITH KISS ME, KATE'S MATTHEW CARLTON
JHP: What's it like revisiting Fred Graham and Petruchio all these years later?
MATTHEW CARLTON: When we did it before, I don't think I was old enough to relate to the complicated past the characters shared both personally and professionally in the storyline.  Now, I understand more fully what a life on the stage can bring and I feel very cozy in Fred's skin.
JHP: What are you enjoying most about playing opposite Martha in Kiss Me, Kate?
MATTHEW CARLTON: Martha is a true one of a kind performer. Having a close friendship on and off stage for so long, makes working together a joy. We have a pure trust and ease together and hopefully the audience will catch that vibe and be a partner in the fun that we share playing together.
JHP: As Fred, you are not only directing the show within the show, but also starring in it as Petruchio. What's the best aspect of playing what is essentially dual roles?
MATHEW CARLTON: The writers of this classic show have done all the work and the parallel character traits of Fred & Petruchio are drawn beautifully in the script.  It's a challenging role for sure, with a broad range to cover, but great writing always makes an actor's job easier.
JHP: Of course you've got plenty of actual Shakespearean experience having been seen in a number of Nashville Shakespeare Festival productions over the years. Why does Shakespeare still seem to intimidate some audiences and what about Kiss Me, Kate helps to bridge that gap?
MATTHEW CARLTON: Some folks may have the impression that Shakespeare is too "highfalootin"  for the average person but he wrote plays that all the audience members, no matter their status or station, could appreciate and relate to. KMK's parallel backstage storyline echoes the relationship and personalities of the  main characters in Shrew and illustrates the timelessness of the Bard's understanding of human nature.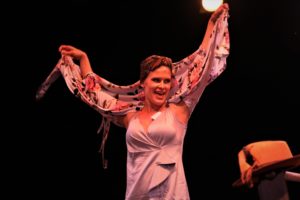 RAPID FIRE WITH KISS ME, KATE'S MALLORY MUNDY
JHP: You're playing Lois Lane. What's up with that character name? Do you think Cole Porter was a comic book nerd? After all, the OTHER Lois Lane made her debut in comic book form a full decade before Kiss Me, Kate premiered.
MALLORY MUNDY: Gosh, that's such a tough call to make. If I wanted to overthink it (which I have a nature for doing), I could guess that maybe it was Porter's humorous way of nodding at the comic book character.  It is my limited understanding that in the comic book, Lois Lane is a more conservative career woman, whereas in this show, she's far from conservative.  One might say she is a career woman, but the type of career and means of establishing that career are contrary to the comic's Lane.
JHP: Some have said the play and especially its source material are misogynistic. What do you think?
MALLORY MUNDY:  Hahaha.  Sure, there's definitely some misogynistic substance in there, but it is most specifically in the source material.  I'm probably the worst person to comment on this because, while I do not agree with misogynistic ideals, I am a big proponent of understanding the time and place of a story.  There are some cringe-worthy lines within the play,  HOWEVER, I think we have done a really tasteful job of presenting the material in a way that absolutely does not celebrate those prejudices toward women.  As far as Cole Porter's script, some might argue that Lois is a celebration of a woman's sexual freedom.  And, if paying attention, one will see that the end of the play is fighting against the ideals seen in The Taming of the Shrew.
JHP: Like your co-stars, you play dual roles, first as the actress Lois Lane and also as Bianca, the character she plays in Shrew. What are the best traits of Lois/Bianca?
MALLORY MUNDY:  Lois is such a fun role because she is the 'ditzy,' sexy role that is so typical is classic musicals (especially Cole Porter's).  The thing about Lois, though, is that she isn't the idiot that she could easily be perceived to be.  She's actually very clever, very determined, but uneducated and inexperienced in common experiences.
The best thing about Bianca, for me, is the fact that she's played by a nightclub performer who has no idea what she is doing as an actress.
JHP: What's most fun about playing opposite Martha?
MALLORY MUNDY:  Jonathan, how am I supposed to choose one??  Martha is the essence of delightful.  She's playful, witty, smart, strong, talented, dynamic, one of the funniest people I have ever known.  The weekend I moved to Nashville as a Belmont student, my (now) brother-in-law was playing bass in the band for Johnny Guitar at The Barn.  Martha was the first leading lady I saw in a professional show in Nashville.  Her strong, quick-witted, brilliantly talented performance wooed me, especially as an aspiring theatre actress myself.  I have looked up to her ever since.  Watching Martha in rehearsals is like getting paid to take a master class in acting.  This isn't the first show I've gotten to do with Martha, but it is the first time I've gotten to play the other leading lady with her, and it's much like a dream come true!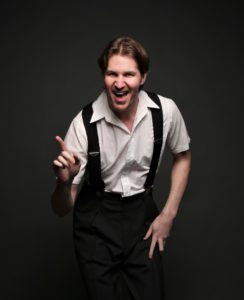 RAPID FIRE WITH KISS ME, KATE'S CALEB PLESS
JHP: Tell me about Bill Calhoun?
CALEB PLESS: Bill is the suave, take chances kind of guy. A heavy gambler always getting involved in things he shouldn't. He's paired with Lois and Mr. Fred Graham has given them this new opportunity to preform with him in his big Shakespeare show. However, Bill May cause more trouble than Fred was expecting!
JHP: While Everett Tarlton and Curtis Lemoine are the show's dance captain and assistant choreographer, your character is a dancer and you, yourself have a background in dance. What's your favorite choreo moment in the show?
CALEB PLESS: Both Everett and Curtis are such great dancers and choreographers and I've had a blast getting to perform everything that they have created. It's hard to pick a favorite moment but I think I would have to say the end of Another Opening. This song starts the whole show and comes out with such high energy that really sets the whole tone of the performance. There's something so magical and powerful about seeing the whole cast dancing in sync!
JHP: Bill has an affinity for gambling. In a game of five cars stud with your co-stars, who'd win and why?
CALEB PLESS: While my character is a gambler we definitely don't have that in common. I have a very telling face! However, I feel that I could probably use that to my advantage and no one would expect that from me. I'd be the underdog that could possibly come out on top!
JHP: Is this your first Chaffin's show? AND….Bill is dating Lois, meaning you get to share the stage with one of my theatre crushes, Mallory. Are you enjoying playing her love interest?
CALEB PLESS: Yes, this is my first show at Chaffin's barn and also my first show in my home city of Nashville! I'm very grateful for this opportunity. Mallory is the best! Such a talented performer and wonderful person on stage and off. She is always open to discussing and working through acting moments and is not afraid to try new things on stage. So happy to be sharing the stage with her!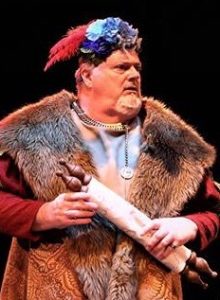 RAPID FIRE WITH KISS ME, KATE'S TIMOTHY FUDGE
JHP: As Harry Trevor, you have mostly Shakespearean dialogue as your character plays Baptista in Shrew, the play within the play . What about the Shakespearean dialogue do you enjoy most?
TIM FUDGE: I'm having fun with the Shakespearean text. In my career as a musical theatre actor I have taken workshops in Shakespearean acting and have auditioned for many Shakespearean productions, but this is the first time I've had the chance to perform it. I love researching the meaning of words and phrases to make sure I am clear in what I'm wanting the audience to understand.
JHP: As Baptista, you're Kate and Bianca's father. Of course Martha plays Kate and Mallory plays Bianca. Tell me about sharing scenes with these two.
TIM FUDGE: They are both such amazing performers! I have music directed Mallory before, but this is my first time sharing the stage with her and she is a joy to work with. Martha and I have worked together for 30 years (of course, she was just a child actress at the time!), so we have a long history from which to pull. I always love sharing the stage with her!! It is wonderful to feel so safe and secure onstage with these two consummate actresses.
JHP: With a character like Harry, there's not much exposition. What backstory might you you concoct to get into character?
TIM FUDGE: Yes, we are given very little background on Harry, but I love thinking of him as an actor very much like myself. He's worked in the theatre his whole adult life with no great financial success, but he is doing what he loves and that's all that matters to him.
JHP: What about this production, with this company, appealed to you as an actor?
TIM FUDGE: Well, I've worked at the Barn off and on for 30 years – as an actor, a waiter, and mostly as a music director – and now under the new ownership, they can offer Equity contracts. I haven't been able to be onstage here in many years due to my union status, so it's wonderful to have the opportunity to perform here again. As far as Kiss Me, Kate goes, I've never even seen it before so it's a new show to me! That's always fun!!
———————————————
Whether, like Tim, Kiss Me, Kate is a new show for you, or an old favorite, you have two final chances to see this great production at Chaffin's Barn Dinner Theatre with closing performances Friday and Saturday, March 8 and 9 at 7:30 p.m. each evening. Show tickets are $13 for Children 12 and Under, $20 for Youth and Students and $35 for Adults. As the venue's name indicates, Chaffin's also offers a full a la carte menu with items ranging from starters and an all-you-can eat soup and salad bar to meat and side entrees and small plate and sandwich options.  CLICK HERE for tickets or call 615.646.9977.
As mentioned above, following Kiss Me, Kate, Chaffin's will debut Esther,an all-new musical based on the Bible's beautiful Queen Esther by Dan Zimmerle. Directed by Wilkinson, with choreography by Tarlton, this limited run premiere will take to Chaffin's main stage March 21, 23, 24 & 28. CLICK HERE for tickets or more information. To keep up with the latest from Chaffin's Barn Dinner Theatre, find them online at ChaffinsBarnTheatre.com, 'like' them on Facebook and follow them on Instagram and Twitter.
Interested in coverage for your latest entertaining endeavor? Click the contact page and drop me a note. You can also follow JHP Entertainment on Instagram and Facebook.