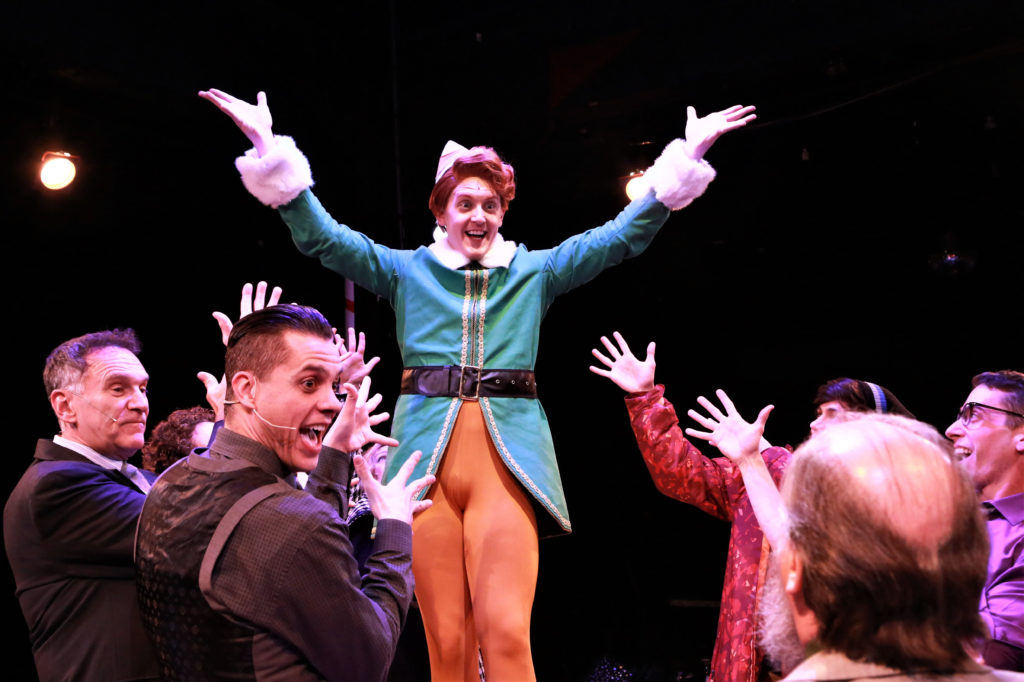 Dear Santa, I have a confession to make. I've never seen Will Farrell's 2003 holiday hit, Elf in its entirety. Confession Number 2: After seeing Chase Miller in Chaffin's Barn Dinner Theatre's current production of Elf: The Musical, based up on the film, with music by Matthew Sklar, lyrics by Chad Beguelin with book by Bob Martin and Thomas Meehan, I fully realize that just might make me a Cotton-Headed Ninny Muggins.
One final confession. I've never been a huge fan of Farrell. After seeing Chase Miller starring in Chaffin's Elf, I am fully convinced there's no way in the world Farrell's performance could hold a candle to Chase Miller's. As I mentioned when I interviewed Miller and his fellow cast mates for a recent installment in my recurring interview feature, Rapid Fire 20 Q, with his perfect comedic timing, unabashed joy and contagious optimism, Miller was obviously born to play this part.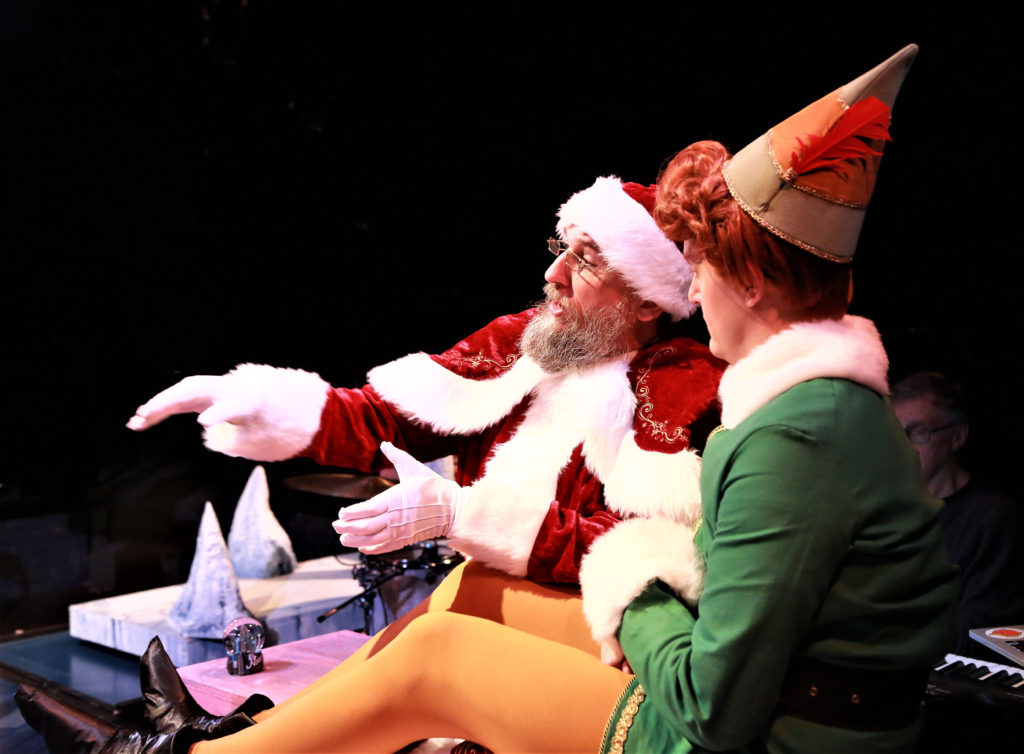 From the moment Miller literally and figuratively leaps upon the stage, his portrayal of Buddy warms the heart with laughter, as he sets out on his journey from the North Pole to Manhattan in search of his father. As Santa himself—fabulously, slightly caustically played by Brian Russell—reveals in clever, albeit thinly-plotted exposition…when Buddy was an infant, he crawled in to Santa's sack, but went unnoticed until Santa returned to the North Pole where Buddy was adopted as one of Santa's elves. After 30 years of thinking he was just a very tall elf, Buddy overhears the truth…that he's human. He then sets out on his journey to find his real father.
As mentioned previously, I've not seen the entire movie, but I've seen enough clips and random scenes over the years as the film enjoys annual holiday airings to know that Miller's Buddy isn't simply a mimic of Farrell. To me, Farrell's films frequently suffer the same fate of most Saturday Night Live skits….they just don't know when to stop. Fortunately, Miller doesn't have that problem. Miller's wide-eyed childlike approach to the character is entertaining from first bounding onstage to his last hug. An actor of lesser skill could easily get lost in the role, reducing it to foolishness, but Miller's Buddy is infectiously enthusiastic in his dream of forging a relationship with his father, so much so that he not only elicits uproarious laughter along his journey, but a genuinely sweet moment or two.
You just gotta love this show from the get. Costumer Miriam Creighton has done a splendid job of designing and constructing jolly holiday attire. Adding a bit of humor to the elven magic, ensemble members portraying elves walk on their knees—which are fitted with elf shoes, of course. Add to that Everett Tarlton's clever choreography, Martha Wilkinson's direction and Rollie Mains' as music director, and you've got the makings of a Christmas musical guaranteed to deliver the holiday goodies.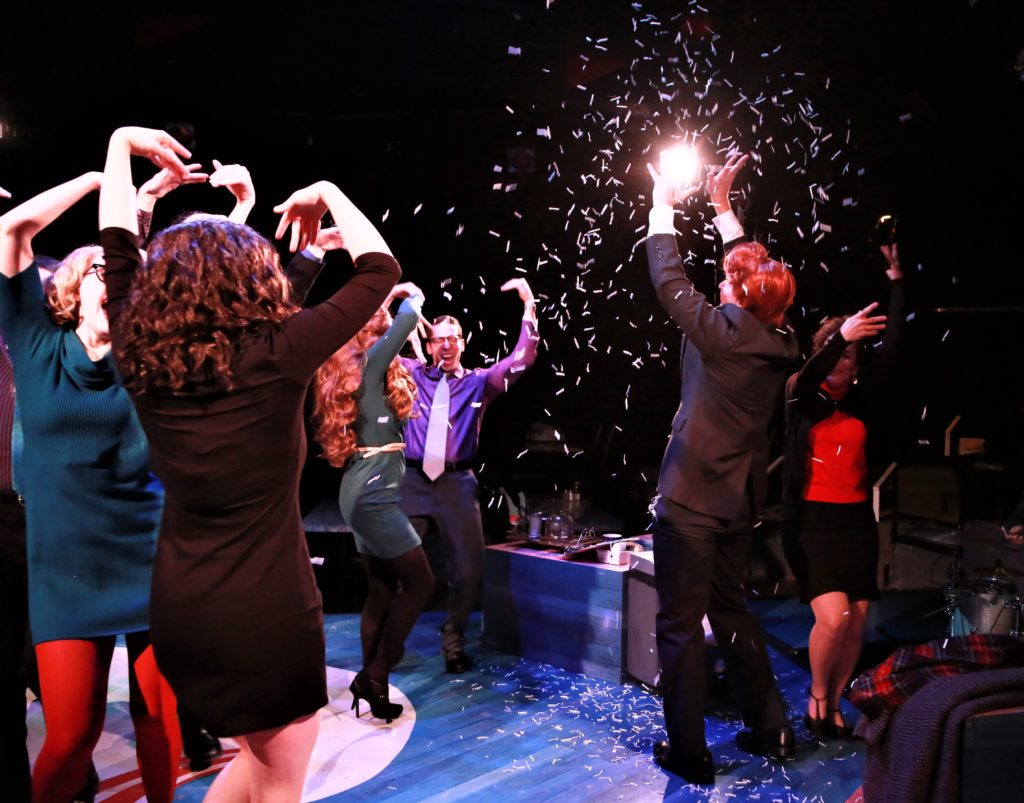 Speaking of Tarlton's choreography, show opener, Christmastown's uplifting positivity perfectly mirror's Buddy's persona. The elf-ography in that number indeed made my belly jiggle like a bowl full of jelly. Sparklejollytwinklejingley's frenetic fun as Buddy tries to convince some jaded department store elves to take pride in their work, continues the Christmas mood perfectly. On that note, Katie Gant's lighting design indeed shines the light on the festive fun as the set glistens like any given Main Street across the country during the holiday season.
Act 2's Fosse-esque Nobody Cares About Santa featuring a few less-than enthusiastic Santas including Austin Olive, David Ridley, Christian Redden and Tarlton, becomes a jazz-hot surprisingly sultry Santa sequence. That leads into an equally seductive Never Fall in Love featuring Christina Candelora lamenting love in the saddest/sexiest Christmas number since Rosemary Clooney's White Christmas torch song, Love You Didn't Do Right By Me—and that's quite a feat, considering she's singing about falling in love with an elf.
Gotta also mention Tarlton's set design. Spoiler Alert: When the Christmas tree lowered from Chaffin's loft (YES, the fabulous mechanical stage that lowers from above is BACK), my Mom leaned over and whispered, "that the kind of tree everybody needs". It always amazes me with relatively limited performance space, Chaffin's somehow manages to utilize every inch of stage, packing fully, gorgeously choreographed numbers from large casts who frequently, seamlessly, move set pieces to and fro in equally choreographed moves, so much so that the audience is barely aware. Just another example of the well-oiled machine that is Chaffin's.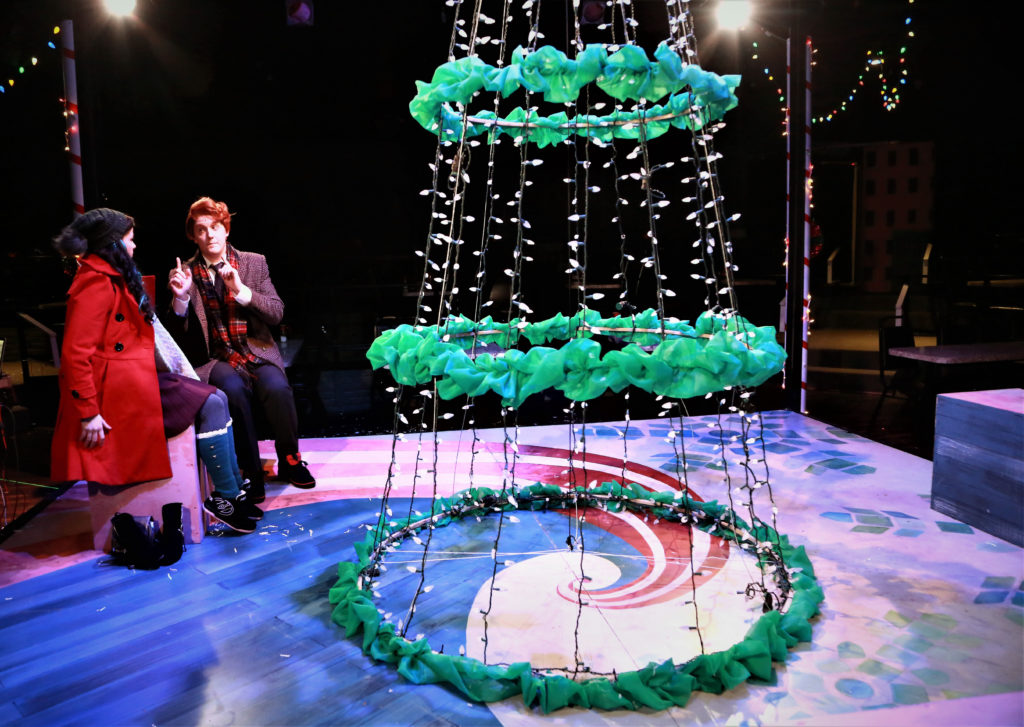 As per usual for Chaffin's productions, the cast is top-notch. Grey Frey, a favorite at Chaffin's, plays Walter Hobbs, Buddy's Dad, and he does so with a perfect balance of businessman agitation and overwhelmed family man. The aforementioned Candelora is Jovie, a less-than-jovial department store elf, who soon becomes the object of Buddy's affection. A fan pf Candelora's for a few years, any chance to see her on stage is a joy indeed. Jessica Holtan, making her Chaffin's debut, plays Emily, Buddy's human step-mom. She's perfect as the put-upon wife, who still sees a bit of practical magic in believing in the spirit of the holiday. Seth Barrett, who recently appeared as Les in Chaffin's Newsies, plays Michael, Buddy's younger brother who, thanks to his workaholic dad, doesn't exactly believe in Santa. His scenes with Miller as his older brother ring true to those of us who look up to our older siblings no matter how different we may be from them.
Another notable cast member is Vicki White as Deb, Mr. Hobb's busy-body secretary, who initially finds Buddy In The Way, but soon warms to him like a cup of hot coco on a frosty morn.
The aforementioned Russell not only plays Santa, but also Mr. Greenway—Buddy's father's Scrooge-like boss. Russell's Santa is played with a decidedly curmudgeonly wink to dry-witted Bob Newhart, who played Papa Elf in the film, also gets the chance to totally turn up the crankiness in the dual role of Mr. Greenway. When I spoke with Russell for my recent all-Elf Rapid Fire 20 Q, we chatted about the fact that Russell's involvement in Elf marks a bit of a homecoming for the actor, who got his professional theatrical start at The Barn Dinner Theatre nearly forty years back. While Chaffin's patrons may also recognize Russell for frequently working as one of the waitstaff during the dinner portion of the shows, and Nashville theatre patrons certainly recognize him from productions all across Nashville, it's been nearly 20 years since Russell has been seen on stage in a Chaffin's production.
Heck, the entire ensemble, including Christen Heilman, Cassie Donegan, Matthew Hayes Hunter, Melissa Silengo, Jenny Norris, Colin Bevis, Myka Pacheco and Gabe Pacheco, is fabulous. Whether playing elves, harried shoppers or over-worked office drones, each member of the cast approaches their various roles with enough minute attention to detail, movement and expression to garner their own attention from the audience from time to time.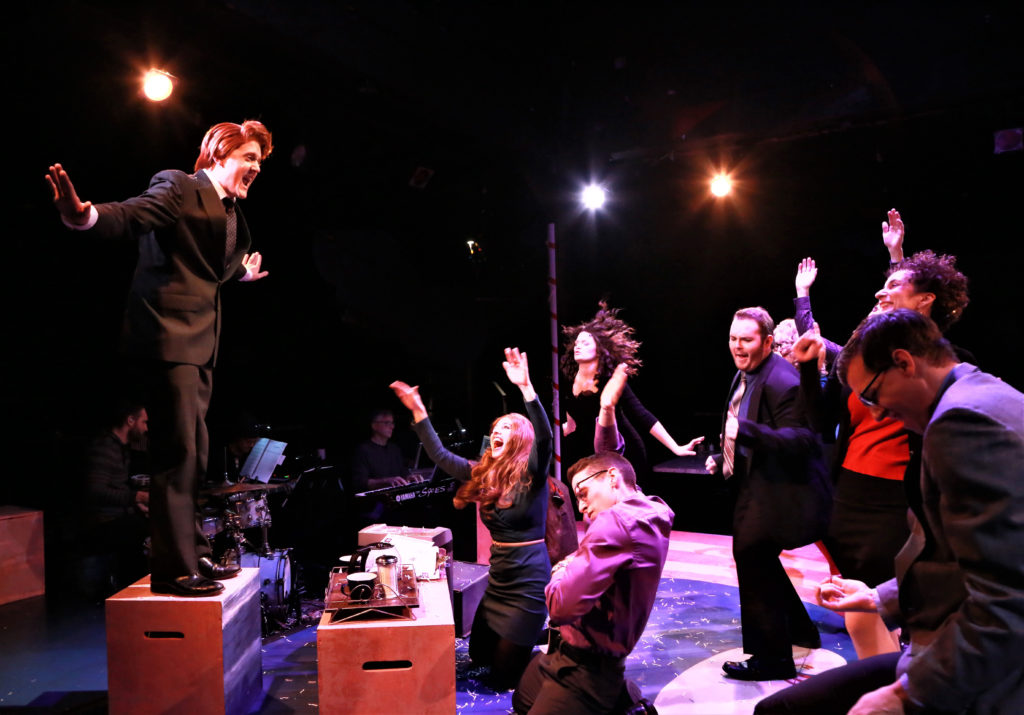 Predictable? Sure. Adorable? Undeniably. Infectiously fun and certain to get you in the mood for the holidays? Absolutely. Elf: The Musical continues through Saturday, December 22. As the venue's name would imply, in addition to the show itself, Chaffin's Barn Dinner Theatre also offers a delicious buffet-style dinner along with the show. Throughout the run, Elf will be presented Thursdays at 12noon and 7:30p.m., Fridays & Saturdays at 7p.m. Additional showtimes include matinee performances on Wednesday, November 28, December 5 & 12 at 12noon, and Sunday, December 9 & 16 at 2p.m. Tickets for Evening performances and Sunday matinees include the full buffet dinner option with Dinner and Show tickets priced at $60 for Adults & $30 for Youth and Students or Show Only tickets available for $35 for adults & $16 for Children 12 and Under. Matinee tickets are available with the option of a Box Lunch for $27.50, or show only for $19.00. For Wednesday and Thursday matinee performances, Doors Open at 11a.m. for Box Lunch patrons, with the show beginning at 12noon. For Sunday matinees, Doors Open at 12noon with buffet service until 1:30p.m. and showtime at 2p.m. Friday and Saturday evenings, Doors Open at 5p.m. with dinner service from 5:30p.m.-7p.m and Curtain at 7:30p.m.
Fair Warning: Chaffin's Christmas shows inevitably ALWAYS SELL OUT, so get your tickets today. Tickets may be purchased by calling the Box Office at 615.646.9977 (ext. 2) or 1.800.282.2276. You can also CLICK HERE to purchase tickets online.
The holiday fun keeps coming at Chaffins with The Game Show Show: Holiday Edition in their Backstage Theatre space, with weekend performances November 23-December 22. CLICK HERE for more information.
To keep up with the latest from Chaffin's Barn Dinner Theatre, find them online at ChaffinsBarnTheatre.com, 'like' them on Facebook and follow them on Instagram and Twitter.
Interested in coverage for your latest entertaining endeavor? Click the contact page and drop me a note. You can also follow JHP Entertainment on Instagram and Facebook.