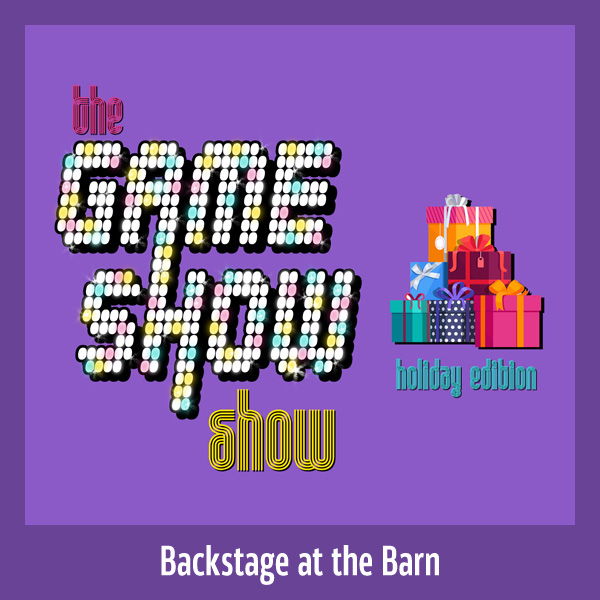 In addition to Chaffin's Barn's main stage theatre space, where they're currently presenting Elf: The Musical, Nashville's oldest-continuing dinner theatre also features a second on-site venue, Backstage at The Barn. Currently on backstage is The Game Show Show: Holiday Edition. As the title suggests, it's all about the fun of TV game shows. Presented in three acts, The Game Show Show sends up everything from Match Game ('77 to be exact), Judge Judy, To Tell The Truth and even includes a bit of audience participation in a friendly physical competition segment reminiscent of Double Dare…all with a timely holiday slant. If you read my column or follow me on social media with any regularity, you know I'm more than a little obsessed with anything 70s and/or TV, so I knew I just had to chat with members of The Game Show Show's cast and crew for the latest installment in my recurring interview segment, Rapid Fire 20 Q. In the spirit of game shows (or perhaps because math isn't my strong suit and I wanted to chat with all seven cast members) there's actually a Bonus Question, so it's technically Rapid Fire 21 Q.
RAPID FIRE 21 Q WITH CAST AND CREW OF THE GAME SHOW SHOW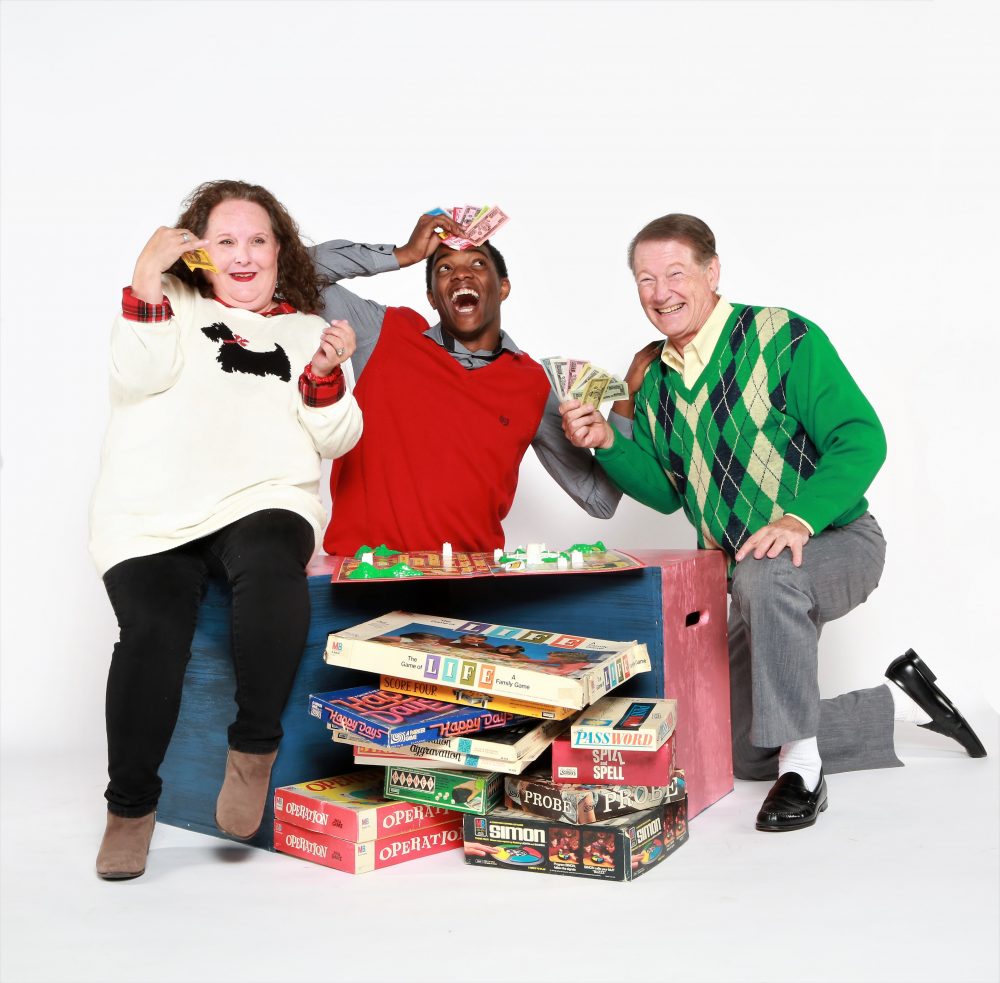 RAPID FIRE WITH THE GAME SHOW SHOW'S JOY TILLEY PERRYMAN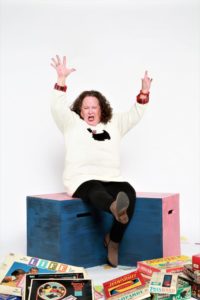 JHP: You're directing as well as appearing in The Game Show Show, right? What can audiences expect to see from you?
JOY TILLEY PERRYMAN: I wear lots of hats in this show, I am even in the stage manager's booth at times.
JHP: In preparing for this show, did you do any research by watching old game show clips on YouTube or the Game Show Network?
JOY TILLEY PERRYMAN: I grew up on game shows, so I didn't have to do a ton of research, but I did enjoy watching old Match Game clips on YouTube.
JHP: Who's your all-time favorite TV game show host? 
JOY TILLEY PERRYMAN: Monty Hall
RAPID FIRE WITH THE GAME SHOW SHOW'S JOHN MAULDIN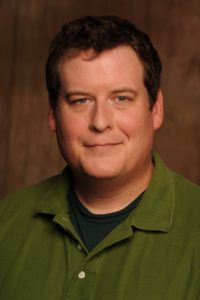 JHP: I understand you're stage managing The Game Show Show. The show consists of three acts, the first—a sort of mash-up of Judge Judy and To Tell The Truth, the second—a homage to Match Game '77 and the third—Reindeer Games…which of these three is your favorite, and why?
JOHN MAULDIN: Yes, I'm stage managing the show but I make an appearance as a special Holiday icon in To Tell the Truth, so since I get to work on stage with this fun cast I would say this is my favorite. However, Match Game will always have a special place in my heart because I watched it a lot as a kid so there is a major kick of nostalgia during that for me. Reindeer Games is also great because it is just pure fun and so audience-centric that there is a great energy throughout the theatre. All 3 make for a fun night out!
JHP: What exactly do you suppose reindeer games are, and why wouldn't they let poor Rudolph play?
JOHN MAULDIN: I imagine there to be a lot games of tag played by the reindeer, maybe some hide and seek, and there is probably a killer game of capture the flag. I guess there is the fear of the different and unusual from the other reindeer that prevents Rudolph joining in their games. I mean we know that it all works out well in the end. Our diversity is our strength, it's true. Everyone has something special about them to offer the world and when given the chance they can shine!!
JHP: If you were playing Match Game '77 and were going for the final match, would you choose Charles Nelson Reilly, Brett Somers or Fannie Flagg?
JOHN MAULDIN: Charles Nelson Reilly hands down. He was just so iconic and identifiable with the show.  I don't know if we would have matched but I'm sure it would have been hilarious regardless.
RAPID FIRE WITH THE GAME SHOW SHOW'S CHARLIE WINTON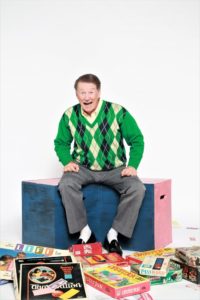 JHP: As host of the second act of The Game Show Show, I hear you're channeling a bit of classic Match Game host, Gene Rayburn. What's one trait of Rayburn's that audiences can look forward to seeing in your portrayal?
CHARLIE WINTON: Gene was a charming man and always seemed to be having a great time, I am striving for that in my performance.
JHP: You're also hosting the third act, Reindeer Games, which is full-on audience participation. Should audience members be the least bit hesitant of volunteering to play?
CHARLIE WINTON: I think anyone that likes to have fun and laugh would enjoy playing our reindeer games!
JHP: Like their main stage shows, Backstage at Chaffin's also features the delicious prime rib buffet with more sides and options than Santa's sleigh-full of presents. What's one item on the buffet you could live off of?
CHARLIE WINTON: Prime rib is my favorite! Add a little horseradish sauce…. yum!
RAPID FIRE WITH THE GAME SHOW SHOW'S MEGAN DEWALD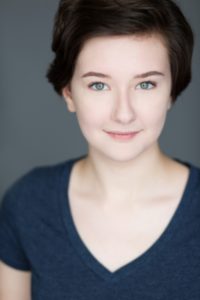 JHP: I hear your Match Game character is a bit like Mary Ann Mobley. TV nerd that I am, of course I know who she was, but you're way too young to have ever seen her in anything, except maybe a rerun of her late-90s appearance on Sabrina, the Teenage Witch (told you I was a TV nerd)…in the spirit of this all-game show themed Rapid Fire…Tell the Truth…did you have to look her up to figure out how to approach this character?
MEGAN DEWALD: I absolutely had to look her up, and when I did, I was blown away by her beauty and her precise diction, although in my research I discovered she tended to drop the ending "k" in words like "think". She's been a blast to emulate.
JHP: You're also playing Vixen, the Gift Exchange Host. What's the worst gift you've ever received that you either re-gifted or returned?  (It's ok, you can tell me…hardly anyone reads these interviews anyway)
MEGAN DEWALD: My Mimi, bless her heart, gifts me an overpriced plastic bracelet every year. They look like they have been made from colored newspaper and dipped in clear coat, then embellished with tarnished studs. Totally not my style, and they are so large that they fall off my wrists. I have a small hoard of them in my jewelry box that I regift occasionally. I don't have the heart to tell her that I hate them because it's the thought that counts. Don't rat me out!
JHP: Who among your cast is most likely to get tickled by an audience member's response and break out into uncontrollable laughter?
MEGAN DEWALD: Ha! It would definitely be me. I'm easily tickled, and I love to laugh. I tend to snort when I laugh, which makes others around me laugh, and their laughter makes me laugh harder. It's a vicious cycle.
RAPID FIRE WITH THE GAME SHOW SHOW'S GEROLD OLIVER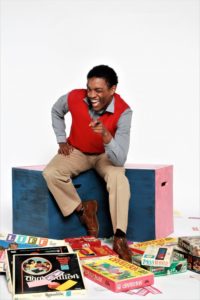 JHP: Tell me about your role(s) in The Game Show Show?
GEROLD OLIVER: I play a few different Characters. I play a caricature of Byrd (the bailiff) from Judge Judy in the first act, the late great poetic comic Nipsey Russell in the second act, and I play myself in act three!
JHP: From what I know, The Game Show Show is mostly improv. How much fun is that?
GEROLD OLIVER: One of my worst nightmares is breaking character on stage and laughing during a performance. I get to live my nightmare with some of the funniest people I've ever had the chance to perform with!
JHP: What is it about games shows that audience find so enticing?
GEROLD OLIVER: I'm sure it's the prizes. There aren't too many better feelings in the world that are more uplifting than walking in a place with nothing and walking out with something that you earned.
RAPID FIRE WITH THE GAME SHOW SHOW'S KARI CALDWELL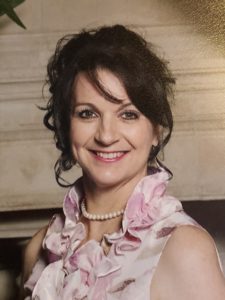 JHP: I hear you're parodying Judge Judy as Judge Trudy in Act 1's To Tell the Truth sendup. While she's not exactly a game show, she's definitely a daytime TV icon. Which cast member should you never play To Tell the Truth with?
KARI CALDWELL: This is a tough one. All of my fellow cast mates are Naughty Little Liars. So, I guess I will have to go with Joy. I always take her so seriously she could probably pull the wool over my eyes. 
JHP: I understand you also appear in the Match Game segment as a flamboyant character that might remind the audience of Joanne Worley. Full Disclosure…she's one of my favorite game show panelist of all time, so I can't wait to see your take on her. What's the best part of channeling someone like her for a character?
KARI CALDWELL: I'm really old so I knew who Joannne Worley was without having to look her up but I still watched Match Game and tons of Laugh In snippets.  She cracks me up. It has been a delight to play a big mouth goofball. I might have been type cast! 
JHP: If you could produce a new TV game show, what would it be called and what would the premise be?
KARI CALDWELL: All contestants would wear a disguise on I Mustache You A Question and go into businesses and ask for a service they may or may not offer. The contestants are judged on their ability to carry out the charade with the people in the business and dedication to their disguise. 
RAPID FIRE WITH THE GAME SHOW SHOW'S ELIJAH WALLACE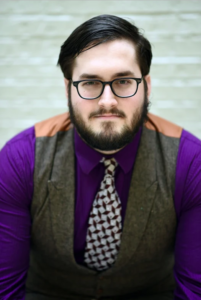 JHP: From what I know, you're Match Game character is a parody of Charles Nelson Reilly. Which is sort of a conundrum because wasn't Charles Nelson Reilly a bit of a parody of everything outrageous and over the top?
ELIJAH WALLACE: He really was quite a character. He did everything on the show from wear hats all the time to hide his baldness and not wearing socks or pants on stage to being flown in with a hawk in his hand and feathers in his mouth. He liked making a scene as most theater people do.
JHP: If you were a contestant on the old school Hollywood Squares and you could chose either Paul Lynde or Rose Marie for the win, which one would you choose? (Dear Reader, Go ahead, Google them if you need to….I'll wait)
ELIJAH WALLACE: I think Paul Lynde since he played Mr Macafee in the movie, Bye Bye Birdie and he was just so quirky and fun which would match my style. I think we would have gotten along great!
JHP: I understand you also play Tiny Tim in the To Tell the Truth segment. Please tell me it's not just the God Bless Us Everyone, but also the ukulele-playing, tulip-tiptoeing 60s singer. Or is that just wishful thinking on my part?
ELIJAH WALLACE: It is wishful thinking unfortunately, but I don't think the Tiny Tim that I am is quite traditional either. He has some nice surprises up his bedraggled sleeves! You'll have to come see the show to fully understand what I mean!
——————————
From my conversations with the cast, it's evident it will be a fun time, indeed, so, dare I say it…Come on Down! as The Game Show Show continues Backstage at Chaffin's Barn through Saturday, December 22. Evening performances are Thursdays-Sundays, December 6 thru 22  at 7:30 p.m. Remaining matinee tickets are available Thursday, December 6 at 12noon, Sunday, December 9 at 2 p.m., Wednesday & Thursday, December 12 & 13 at 12noon, Sunday, December 16 at 2 p.m. and Thursday, December 20 at 12noon. Thursday Matinee Show Only tickets are $19. (Patrons can also bring their own sack lunch, with drink options available for purchase. Thursday Matinee and Box Lunch tickets are $27.50. Box Lunch service begins at 11 a.m with Thursday matinees beginning at 12noon. Sunday Matinee  and Evening Performance Only tickets are $35/adults or $16/children 12 and under. Dinner and Show—which includes the aforementioned delectable full prime rib buffet—tickets are $60/adults or $30/youth/students. Sunday buffet service begins at 12noon until 1:30 p.m. with the show beginning at 2 p.m. Dinner service for evening performances begins at 5:30 p.m. and continues until 7 p.m. with a 7:30 p.m. curtain. CLICK HERE to purchase tickets, or for more information.