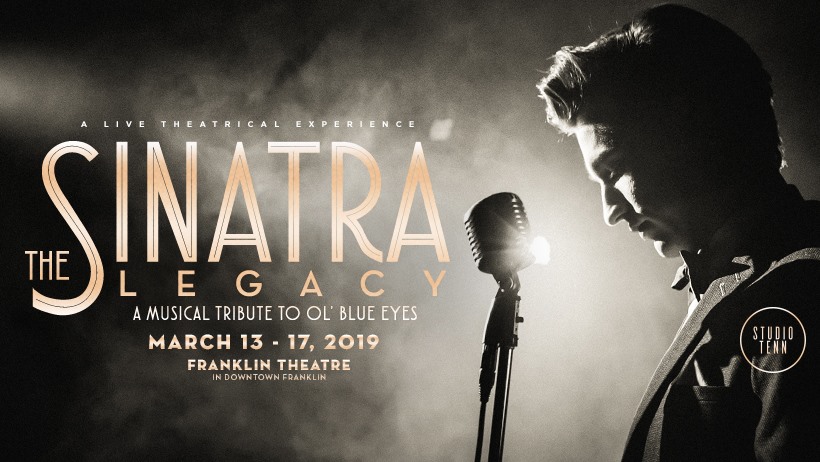 Season after season, Studio Tenn produces some of the best dramatic and musical theatre experiences around. For the past six years, in addition to more standard offerings, Studio Tenn has presented their Legacy Series, a limited-engagement celebration of icons in the world of music. This weekend, the company is once again including another installment in the mix of their theatrical season as they present The Sinatra Legacy: A Musical Tribute to Ol' Blue Eyes, on stage at The Franklin Theatre in nearby Downtown Franklin from March 13-17.
I often say Studio Tenn is as close to Broadway-quality as middle-Tennessee theatre-goers get without booking a vacation to New York City's theatre district and the inclusion of their Legacy Series proves just that, featuring some of the most talented performers in Music City (or anywhere for that matter) and presenting them in an intimate setting as though a group of friend—albeit ridiculously talented friends—have gathered together to celebrate the musical heritage of one of the 20th Century's most gifted performers.
Previous Studio Tenn Legacy Series offerings honoring Hank Williams, Johnny Cash, Ray Charles and most recently, Glen Campbell, have been performed on the stages of the company's usual home, Jamison Hall at The Factory at Franklin, as well as The Schermerhorn Symphony Center and The Ryman Auditorium. This weekend's upcoming Sinatra Legacy marks the first time since heir inaugural Legacy show that Studio Tenn will once again set up shop at The Franklin Theatre, the beautifully restored historic movie house/live music venue that originally hosted the company's Hank William Legacy debut back in 2013.
As is usually the case for Studio Tenn's Legacy Series, the entire run of the show is nearly SOLD OUT, with just a handful of tickets remaining. That said, I was thrilled to get the chance to chat with members of the company for the latest in my recurring interview feature, Rapid Fire 20 Q. Among the conversationalist for this edition, Matt Giraud, frequent Studio Tenn performer who gained notice during 2009's Season 8 of American Idol for his smooth vocal skills,infectious smile and charming stage presence that landed him in the Top Five. Then I chat with Belmont alum, Maggie Richardson, singer/dancer/choreographer, returning to Studio Tenn, for the first time since having portrayed Dainty June in the company's 2015 production of Gypsy. Next up is Jaimee Paul, an acclaimed vocalist who, when not providing backup for superstars like Kelly Clarkson and Wynona, has worked with noted producers David Foster and Michael Omartian. Rounding out this edition of Rapid Fire 20 Q is Nashville native, William Hall, who, after studying classical voice at the University of North Carolina Chapel Hill has returned to his hometown to continue his education at Vanderbilt while pursuing music right here in Music City.
———————————————
RAPID FIRE 20 Q WITH CAST MEMBERS OF STUDIO TENN'S THE SINATRA LEGACY: A MUSICAL TRIBUTE TO OL' BLUE EYES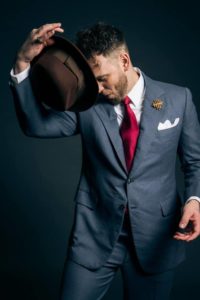 RAPID FIRE WITH THE SINATRA LEGACY'S MATT GIRAUD
JHP: From what I remember, Studio Tenn's 2016 The Ray Legacy, celebrating the music of Ray Charles, marked your debut with the company and now you're back for this year's Sinatra Legacy. What is it about these Legacy shows that sets them apart from standard musical theatre?
MATT GIRAUD: Well, before these shows I hadn't really acted since I was in elementary school and it was the perfect way to get my feet wet, being such a fan of musical theater and this company in general. I've learned so much working with them and am absolutely honored to be surrounded by such talented musicians and artists every day. These shows are so special because the quality that they put into them is unlike anything I've seen in a live show in Nashville. It'll take you right back to the Rat Pack era and you'll forget you live in the present day.
JHP: Some folks likely first took note of you from your time on American Idol. That season's Top 5 theme was Rat Pack Standards, during which you performed your take on Sinatra's version of My Funny Valentine. Any chance you'll revisit the tune during this week's Sinatra Legacy?
MATT GIRAUD: Ha! We will have to see! With Frank's catalog there are countless numbers of tunes to pick from and I'm sure some we wish had time for just won't make it in. Either way, we are definitely going to come out swinging Plus that song got me kicked off of Idol so I kind of hope we don't! Haha.
JHP: Speaking of The Rat Pack, if you had to name your squad, what would you call yourselves and why?
MATT GIRAUD: Probably The Ignance! Cause we're all pretty ignant. (Slang for silly/over the top)
JHP: This year marks the first year the Legacy Series returns to The Franklin Theatre. What is it about that historic venue that lends itself perfectly to this type of musical event?
MATT GIRAUD: It will be my first time on stage at the lovely Franklin theater. It's such an intimate beautiful room that really does have a timeless feel to it. I think it's a perfect spot to transport each audience back in time for a smokin' hot, classy, jazz-filled evening.
JHP: Sinatra's music is timeless. Why do you suppose that is?
MATT GIRAUD: Taking the time to learn and truly live the lyrics to these songs has really shed new light on this music. Yes, some of these tunes were covered by many artists but Frank put a special kind of playful joy or deep sadness on these tunes. He could really break your heart if he wanted to with one song and make you want to dance to the next…just that easily. Listening to him taught me how to truly express these gorgeous lyrics. A reminder to really think about what I am singing to connect with the audience and take them with me emotionally rather than just sing a song. His delivery and the depth in his renditions will always make Frank truly timeless.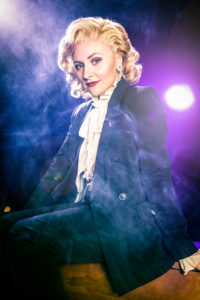 RAPID FIRE WITH THE SINATRA LEGACY'S MAGGIE RICHARDSON
JHP: You just choreographed a local production of Singin' in the Rain, which takes place in the 1930s and now you're performing in Studio Tenn's The Sinatra Legacy. Sinatra's first big break came in the mid-30s thanks to a radio show audition. What is it about that time period that you think was so magical?
MAGGIE RICHARDSON: I love the glamour and romance of this time period. Movies and music were all about stepping into a totally different world. They were a form of escape and a creative outlet where people were given permission to dream. If you look at Frank's early songs, the romance of the lyrics might actually make you sick (in the best way)!
JHP: Studio Tenn audiences might recognize you from your turn as Dainty June in their 2015 presentation of Gypsy. Is this your first time back with the company? How's it been so far?
MAGGIE RICHARDSON: Yes! I am absolutely thrilled to be back, after doing theatre around the country and coming back to the Nashville area to raise my precious daughter. Studio Tenn always creates a safe and fun work environment, and they put on incredible shows. I feel SO blessed to be working at this amazing company with these incredible people.
JHP: If you could emulate one aspect of Sinatra's swagger, what would it be?
MAGGIE RICHARDSON: He had a special way of connecting with the audience and people- a little glimmer of something different that you couldn't quite put your finger on. I hope to embody and portray that zing.
JHP: I can't talk Studio Tenn without mentioned one of my theatre crushes, Laura Matula. What's it like to share the stage with her and the rest of the performers in The Sinatra Legacy?
MAGGIE RICHARDSON: Same! It is magical. I have been looking up to Laura for years, and this is our first time actually working together. I could go on about how much I have learned from her as a performer and as a person. She's BRILLIANT. And I can't even tell you how many times I have almost straight up exploded while listening to and watching my fellow cast members perform. They are just insane.
JHP: Speaking of Laura, she's co-directing alongside Studio Tenn's Interim Artistic Director, Benji Kern. With these two at the helm, I'm sure we're in for some surprising takes on Sinatra classics. Can you reveal just a hint of a particular song to look out for?
MAGGIE RICHARDSON: Oh my goodness yes, they are a power team. I will say this…in this show, you'll be taken on a moody journey and get caught up in moments that take you by surprise. You'll get everything you came for, but SO much more than you knew you even wanted! My favorite (which is different every day) is Laura and Jaimee's intimate version of the song Something Stupid.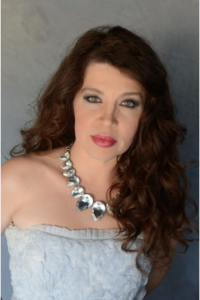 RAPID FIRE WITH THE SINATRA LEGACY'S JAIMEE PAUL
JHP: Is this your first time working with Studio Tenn?
JAIMEE PAUL: Yes…and I'm so excited about it!
JHP: What is it about The American Songbook style of music that appeals to you as a performer?
JAIMEE PAUL: The lyrics…the songs were so simply written, but yet said so much.
JHP: To put it into the modern vernacular, you could say that Sinatra and the Rat Pack were the original Squad Goals. What famous female singers would be your ideal squad?
JAIMEE PAUL: Bette Midler, Barbra Streisand, and Tina Turner.
JHP: While The Rat Pack seemed quite the boys club, many influential and successful women were also associated with Sinatra and the rest. From Marlene Dietrich and Lauren Bacall to Angie Dickinson and Marilyn Monroe. If you could chat with one of the Rat Pack women, who would it be and what might you ask?
JAIMEE PAUL: I would say Marilyn Monroe…I would ask her, "when you were a little girl, what did you want to do when you grew up?" I'd also love to ask Liza Minnelli, "What it was like growing up with Judy Garland as your mom?"
JHP: Oh, that's right! Liza was indeed a member of The Rat Pack, touring with Sinatra and Sammy Davis, Jr. after Dean Martin dropped out of the Ultimate Event Tour in the late 80s. Good Call! Is there one particular song in The Sinatra Legacy that you just can't get enough of, whether it's one you're performing, or someone else?
JAIMEE PAUL: I absolutely LOVE, It Was A Very Good Year.  Not only does John-Mark McGaha absolutely nail it, but I now want to add it to my show!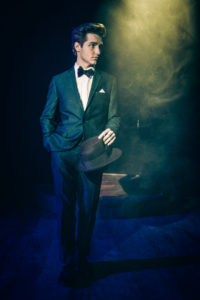 RAPID FIRE WITH THE SINATRA LEGACY'S WILLIAM HALL
JHP: Last year you were part of the audio team for Studio Tenn's Glen Campbell Legacy and now you're featured as one of the performers of The Sinatra Legacy. What's the experience been?
WILLIAM HALL: It has been an absolute blast. I am so thankful to be part of such an amazing cast of singers and musicians. I feel like every rehearsal has been a masterclass in singing and performing, so I am just trying to soak it all in. I've been in love with this music since I was young and it's such a pleasure to get to sing it.
JHP: One thing I love about Studio Tenn's Legacy Series is that it always seems like a group of friends just hanging out and celebrating music. Is that a fair assessment?
WILLIAM HALL: Absolutely. I think that is one of the things that makes this Legacy process so unique; it's all about the music. That perspective allows us to be casual and collaborative onstage and let the music speak for itself. I think I speak for everyone when I say that we really do enjoy watching each other perform.
JHP: The promo shoot for The Sinatra Legacy resulted in some fantastic shots of you and your co-stars.. Tony Matula totally captured that Sinatra vibe. What was working on that photo shoot like?
WILLIAM HALL: To be honest I was really nervous! I had never done any kind of photo shoot before. Tony was awesome to work with and I can't thank him enough for being patient with me. He has an amazing vision and he knows how to make you feel comfortable and like yourself in a laid-back way. We were actually on the set of Always…Patsy Cline for the shoot which added a whole other dramatic element and made it feel more natural. Frank Sinatra had an incredible swagger and cool about him and Tony knew how to play off of those subtleties.
JHP: While The Sinatra Legacy centers on his music, Sinatra also enjoyed a hugely successful film career. What's your favorite non-musical Sinatra movie?
WILLIAM HALL: From Here to Eternity. I love the behind the scenes story about the film helped pull Frank out of a career slump. It's also the one that I am most familiar with. For some reason I imagine that Sinatra's character, Maggio's feistiness in the movie captured some of his own personality.
JHP: If you could pick a Sinatra career highlight to have witnessed in person—-from crooner to movie star to Vegas headliner to his later comeback—which would you choose?
WILLIAM HALL: I would say either Sinatra Live at the Sands in Vegas, or any of the Rat Pack performances at the Sands around 1965 or so. I have the Live at the Sands recording and I just love the energy of his voice live, the way he phrases things, and interacts with the band.  As far as the Rat Pack goes, I love the way that they play off of each other. They always look like they are really having fun and they are masters of their craft.
——————————
Speaking of masters of their craft really having fun, while most of The Sinatra Legacy's five-day run performances are indeed SOLD OUT, at the time of this article, single seat tickets remained for select shows, so say a prayer to the Rat Pack gods and CLICK HERE to try your luck. If you miss out on The Sinatra Legacy, fear not, Studio Tenn's next musical, Joseph and the Amazing Technicolor Dreamcoat takes the stage at Jamison Hall from May 17-June 2. As for their Legacy Series, I have it on great authority you will not be disappointed with next year's offering. CLICK HERE for tickets or more information on Studio Tenn or follow them online at StudioTenn.com or on social media at Facebook, Instagram and Twitter.
Wanna check out previous Rapid Fire conversations? CLICK HERE. Interested in coverage for your latest entertaining endeavor? Click the contact page and drop me a note. You can also follow JHP Entertainment on Instagram and Facebook.