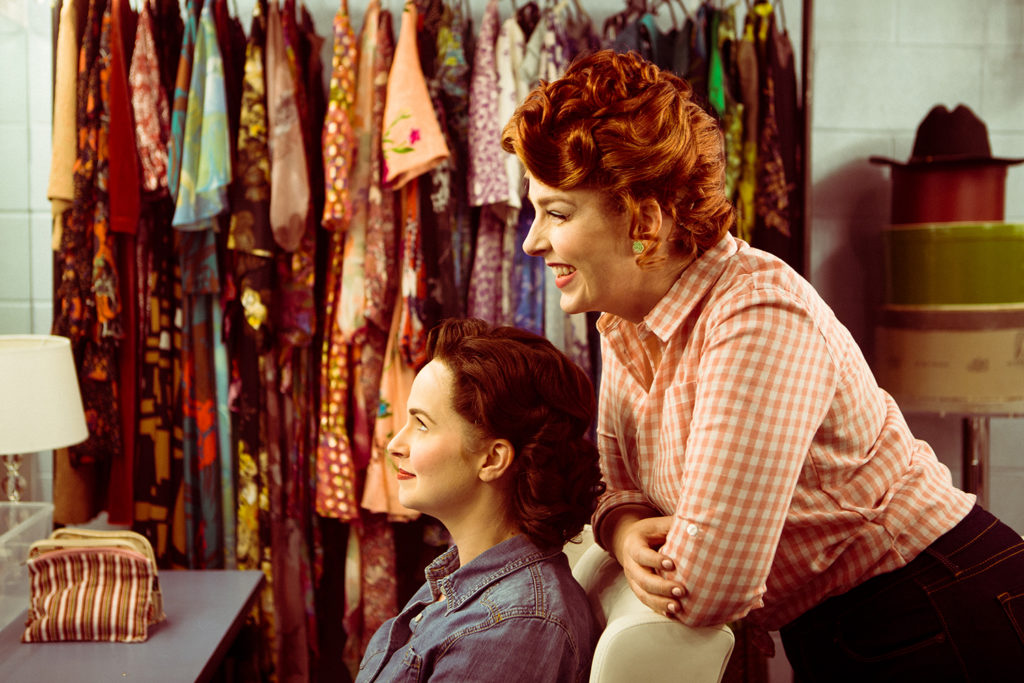 Studio Tenn's Always…Patsy Cline finishes it's third and final week of performances at Jamison Theatre inside the Factory at Franklin with three remaining shows this weekend, thru Sunday, February 24. As I mentioned when I chatted with Megan Murphy Chambers and Melodie Madden-Adams a few weeks ago for my Always…Patsy Cline Rapid Fire 20 Q, mounting Ted Swindley's jukebox musical celebrating the brief, but poignant friendship between the country music legend and a Texas fan right, here in Music City is indeed a bold choice for Studio Tenn, but if anyone could pull it off they could…and they have.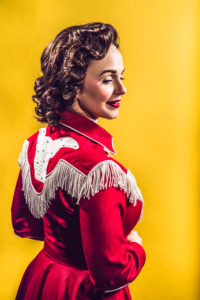 While many in the Nashville area (myself among them) associate the iconic singer and the nearly-equally beloved musical with local mega-talent Mandy Barnett, who's many performances in the role are as near to seeing Cline herself as anyone can get, director Benji Kern and star Chambers make wise choices in the way Chambers presents Cline. While Barnett mystifyingly embodies the icon, so much so, you might begin to believe in reincarnation, Chambers makes her turn as Cline her own, and in doing so, putting the emphasis on both jukebox and musical, offering audiences something between a tribute show and a modern take on the esteemed theatrical piece and the woman for whom the show is named.
Chambers, a consummate performer, as anyone who witnessed her recent one-woman show, Fun can attest, doesn't steal the spotlight, she powers it. Her mega-watt smile and twinkling eyes matched only by her ballsy delivery and magnificent voice. Think Toy Story's Jessie the Yodeling Cowgirl mixed with a modern day Mae West with the vocal skills of Jill Scott and you've just about got Chambers' Patsy Cline.
Madden-Adams' Louise Seger, upon who's chance meeting at a Patsy Cline concert and resulting continuing correspondences with the  star the show is based, is equally divine. Having seen my share of productions of the show over the years, Seger is often played a bit like the character of Florence Jean Castleberry, from 80s TV's Alice. While Madden-Adams' Louise does indeed have the sass of Flo, she also presents her Louise with an inherent sadness and longing for connectivity with others. That longing, coupled with the scripts quick quips and one-liners, elevate Madden-Adams' Louise from narrator to a universally relatable character. After all, who are we without our connection to others?
Then there's the show's wardrobe, courtesy Blake Danford, the show's costume designer. Much like the stars' portrayals of Cline and Seger, Danford also pays homage to the oft recognizable wardrobe pieces, while putting his own spin on them. Among my favorites, the blue denim dress and of course Cline's red and white cowgirl ensemble, nearly as synonymous to Cline as the music itself.
Scenic designer Mitch White puts another jewel in the Studio Crown with his seemly simplistic, but ultimately effective set. From obvious nods to the hallowed stage of The Grand Ole Opry to smaller details seen within Seger's fabulously mid-century kitschy kitchenette, White's set is a minimalist's dream.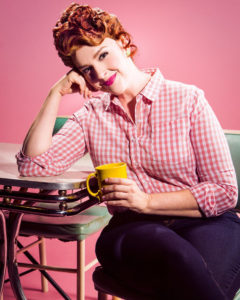 While the stars find a beautiful middle-ground in presenting their versions of the two women at the crux of the story, the technical crew bring it all home to the idealized Cline from the look and feel of the show, to the work's incredible music. Thanks to conductor, Jason Tucker and the in-house band comprised of Michael McElravy, Lindsey Miller, Luke Easterling, Ben Andrews and Cassie Shudak, and a soundtrack packed with more than two-dozen songs from Cline's brief but memorable songbook, there's never a lull in the musical action of the show. All the songs are there, and I mean all of them…from must-haves like Crazy, I Fall to Pieces, Walking After Midnight and Sweet Dreams to Stupid Cupid, Three Cigarettes in an Ashtray and Seven Lonely Days…plus so many more, and they're all done to perfection thanks to Chambers, Madden-Adams and the band.
Director Kern seizes every opportunity, not only to showcase Chambers' vocal skills, but to build upon the chemistry of his leading ladies, for you see, Chambers and Madden-Adams are longtime friends off the stage, as well as on, having first met several years ago while appearing in a show together. Their chemistry and genuine friendship move the story along in a gorgeous way.
While much of the show volleys between Louise addressing the audience was she remembers her encounter with Patsy and Patsy's song breaks, there are several instances when the two ladies interact, and thanks to some fun choice from he director, a couple of audience participation scenes that help to bring the viewer into the story even more.
With only three more chances to see Studio Tenn's Always…Patsy Cline, Saturday, February 23 at 2 p.m. and 7 p.m. and a final Sunday matinee, February 24 at 2 p.m., I would encourage…in the words or Patsy Cline herself, to "Come on in and sit right down and make yourself at home" at Jamison Hall at the Factory at Franklin before the show's nothing more than a Faded Love. CLICK HERE to purchase tickets.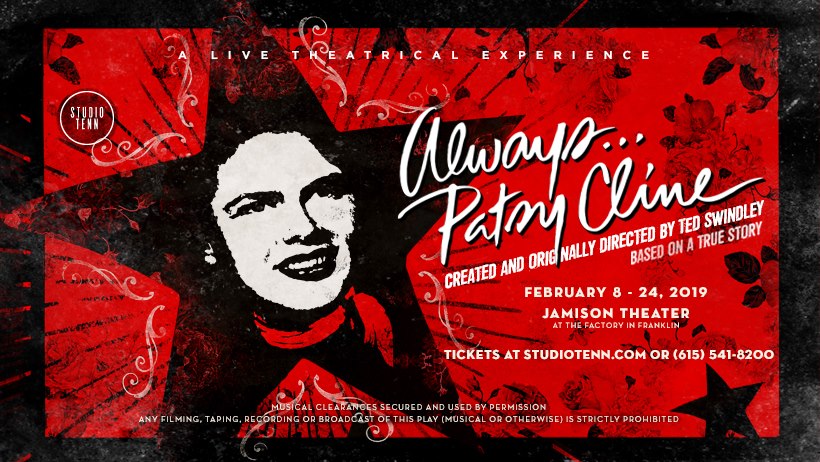 With hardly a break between productions, Studio Tenn follows Always…Patsy Cline with The Sinatra Legacy: A Tribute to Ol' Blue Eyes, the latest in their ongoing Legacy series. The Sinatra Legacy will take to the stage of the Historic Franklin Theatre in Downtown Franklin for five performances only from Thursday, March 14-Sunday, March 17. CLICK HERE for tickets or for more information.
In the meantime, be sure to check out Studio Tenn online at StudioTenn.com or on social media at Facebook, Instagram and Twitter.
Interested in coverage for your latest entertaining endeavor? Click the contact page and drop me a note. You can also follow JHP Entertainment on Instagram and Facebook.